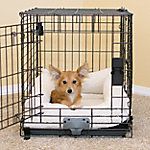 Three Things to Consider About a Pet Crate
Pet crates come in a variety of sizes and colors so every dog can have a place to call its own. Not only do crates provide a safe and comfortable way to transport your dog, crates also serve as an indoor dog house. Dogs love a spot that's close and cozy, like a den, to take a nap or just escape to when they need a "time out." Crates are also a great tool for puppy potty training, and for puppies who need a nap or need to calm down between playtimes. Although cats don't tend to spend much time in crates at home, they are necessary for safe transport to and from the vet, boarder or groomer. Choosing the right crate for your furry family member means understanding your dog's needs and how you plan to use it.
Materials
Pet crates come in three basic materials: wire, soft-side and plastic. Wire crates are great for in-home use. They allow for plenty of ventilation and have a solid plastic floor that is removable and washable. This makes for easy cleanup when your puppy isn't quite house trained and when your dog is having digestive issues. Some wire crates come with dividers, which lets you control the size of your puppy's sleeping and play area which also helps with house training. Add a removable cushion with a zip-off cover, and you've got the perfect indoor dog house for your pet. Plastic and soft-side crates are primarily designed for the safe transport of your pet on vacation, to the vet, groomer or dog show. Both types come with convenient carry handles on the top and most also allow for front or topside loading and unloading. Look for plastic and soft-sided crates that provide plenty of ventilation for your pet while in transit.
Size
When it comes the proper size crate, choose one that will fit your dog at his full size, rather than buying several crates for different stages. However, make sure you choose a crate with a divider so your puppy has separate sleeping and play areas. As mentioned, this will help with potty training, since dogs do not like to soil their sleeping areas. For transport, choose a crate that will allow your dog or cat to stand up without her head touching the top, turn around completely and lay comfortably. That means your pet's height and body shape, not just her weight, must be taken into consideration when choosing a crate for transport.
Portability Needs
The kind of transporting you'll be doing with your pet will also factor in to your crate choice. When flying a dog checked with baggage, the crate must meet airline size requirements, be properly ventilated, have a waterproof bottom and must enclose your pet's entire body. There are different size requirements for pets traveling in a plane's cabin, but most pet carriers must be able to fit under the seat in front of you. Soft sided crates are a great choice for in-cabin use because they are light weight and easy to carry. Crates used in the baggage areas must be made of sturdy plastic to keep your pet as safe as possible while in transport. Soft sided crates are also great for daily use or local transport to the vet or groomer. Basically, the important things to remember when purchasing a crate for transport are proper ventilation, size and where you and your pet are going.
Tractor Supply Co. loves helping you take care of your four-legged family members. Check out our complete line of pet carriers to meet all your pet's travel and housing needs.