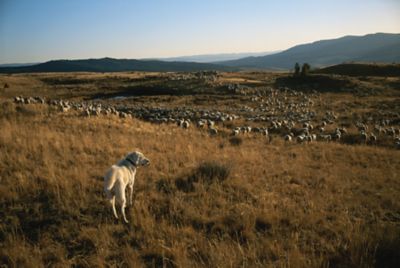 The Akbash take their guardian duties seriously.
Ever Vigilant
By Carol Davis
The large Akbash livestock dog can be a fierce protector against predators, yet be as gentle to newborn lambs and goat kids as, well, a lamb.
The Akbash, along with the Great Pyrenees and Komondor, is one of the most common Livestock Guard Dog (LGD) breeds. Others include the Maremma and Anatolian shepherd.
Guardians typically live with their livestock — usually goats or sheep — to safeguard the vulnerable animals from predators, such as coyotes, rogue dogs, wolves, and even bears, depending on location. Their duty is the safety and well-being of their flock, and LGDs, which bond with their goats or sheep, are determinedly single-minded in their work.
LGDs are not herders. Herding dogs, aided by their handler, drive livestock from one area to another by chasing, barking, and biting. The guardian dogs' job, however, is keeping that livestock safe by staying with the herd and aggressively warding off predators. They're fiercely independent and generally don't need human help.
They patrol slowly around and among the herd all night, listening and smelling for danger. They send out loud, deep barks to establish their "footprint" — warning potential predators that they're on the job.
Livestock guardian dogs became essential to American goat and sheep owners about 40 years ago. With the tightening of federal regulations on predator control in the 1970s on poisoning, trapping, and aerial hunting, American farmers and ranchers turned to an ancient method — guardian dogs had been used for centuries in Europe and Asia — for livestock protection.
But for guardians, protection is more than keeping predators away. A livestock dog will also let you know something unusual is happening, such as if a goat's horns get caught in a fence.
The Akbash, which originated in Turkey, is an ancient breed developed to fend off wolves and bears. This tall, athletic dog carries itself with a grace and elegance that belies its powerful personality.
As with other LGDs, the Akbash is intelligent, independent, and capable of working without supervision, which appealed to Diane Spisak, an Akbash breeder who also raises sheep.
"They've been bred for 4,000 years to be independent of people," she says. "They can make decisions and react. They're not a 'step and fetch it' dog and they don't look to their owner for direction."
Spisak equates the Akbash with the Border collie in intelligence, although their jobs are much different.
"With a Border collie, you can ask it to do something they know is wrong and they'll still work their heart out for you," she says. "If you ask the Akbash to do something stupid, they may do it once and then they'll look at you like you're an idiot."
The Akbash take their guardian duties seriously. A dog that Spisak sold to a Canadian sheep farmer faithfully brought the sheep home every night. One cold, snowy evening, the dog, Apollo, didn't come home with the flock so the farmer went looking for him.
"He found the dog lying next to a dead lamb. He couldn't do anything to save her, but he protected her from the coyotes eating her," Spisak says. "Not until they picked up the sheep did he leave."