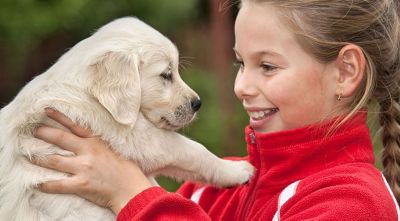 Adopting a Dog
Adopting a puppy, kitten or older animal from your local shelter or rescue gives an animal a forever home. However, adding a furry friend to your family can seem daunting if you've never owned a pet. It's easy to fall in love with the first pair of big brown eyes that looks at you, but having an idea of what you want before you visit a shelter is important. The following tips can help:
Do Your Homework
The internet makes a wealth of knowledge available about every kind of pet you could possibly encounter during your search for the perfect companion. Different breeds have different personalities, exercise requirements and health needs, so a little advance knowledge can prevent a lot of heartaches from occurring after you bring your new family member home.
Right Dog, Wrong Space
It's easy to fall head over heels with what you read about a dog or how a dog looks in a picture. For example, you may love the unique coloring of the Australian cattle dog. But, if you live in an apartment and are gone for six to eight hours a day, it's not the dog for you. How much space you have and how much time you can spend with a dog are big factors in canine adoption. That Great Dane/husky mix may be adorable now, but it's going to quickly become big and busy!
Bringing Fido Home
Getting your home ready is an important part of bringing your pet home. Puppies and even older dogs feel safe and secure in a crate. Even if it makes you feel cruel to lock up your dog when you're not home or when your puppy needs some quiet time, you are showing responsible ownership by providing a secured space when you're not available.
Cats do not require crates, except when you take them to the vet, but keeping your kitty secured in a tiled room with its litter box, bed and food bowl until you are sure it knows how to successfully use the box helps reduce "accidents."
Feeding your pet high-quality food, staying up-to-date with vaccinations, and implementing proper bathing, grooming and obedience training (for dogs) are all part of successful pet adoption. Additionally, be sure that you and your family are ready for a commitment of between 10 and 20 years.
We have everything you need for a great start to your pet adoption journey. Shop our full line of dog and cat supplies, and get your ready to bring your new pet home.
Sources:
https://www.aspca.org/adopt-pet/adoption-tips