Teenager raises funds to fight cancer in Golden Retrievers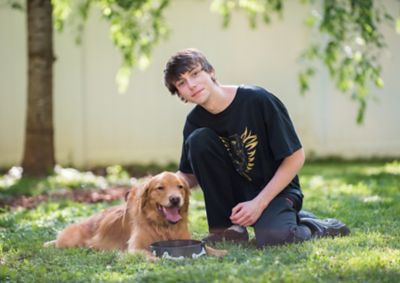 Chris wanted to find a way to help Golden Retrievers
By Casey Kelly-Barton
Photography by Blake Madden
Christian Young has an unshakeable love of animals. The Morganton, N.C., teenager, who hopes to become a veterinarian, experienced a tragedy that could have turned him away from his lifelong love of dogs. Instead, he took a path that's led him to advocate for cancer awareness and research for Golden Retrievers, a beloved and popular breed that suffers disproportionately from the disease.
Chris and his mother, Terry Tucker, once kept a potbellied pig and a miniature horse at their home along with rescue dogs. About three years ago, two of their dogs escaped a pen and fatally attacked their pig and horse.
Chris and Terry were devastated. "As a mental health therapist, I knew I had to do something to help us heal," Terry says. "Our family is not complete without a dog, so I began looking for the tamest breed I could find."
That search led to a Golden Retriever puppy that Chris named Phoenix to symbolize renewal after a loss.
In raising Phoenix, and in the course of his work for a local veterinarian whose dog died of cancer, Chris learned that Golden Retrievers are twice as likely to die of cancer as other breeds. Cancer is now the cause of death for about 60 percent of Goldens, and over the past 40 years, it has reduced the breed's average life span from 16 years to 10.
Chris wanted to find a way to help.
"I did some digging and found Colorado State University does a huge research study with 3,000 Golden Retrievers," Chris says. "I decided I wanted to do my senior project on that and raise money to help fund their research."
The Phoenix Fund, named for his beloved Golden, was born.
In 2015, CSU and the Denver-based Morris Animal Foundation finished recruiting 3,000 dogs for the Golden Retriever Lifetime Study. Researchers plan to gather "millions of data points" over the next decade or so to help find out why Goldens are so susceptible to lymphoma, blood-vessel cancer, and other malignancies.
Chris, who enters school this fall as a senior, plans to run the Phoenix Fund through next summer.
His goal is to raise at least $2,000 through T-shirt sales or a combination of sales and plain old hard work.
"If we don't meet that goal, then I'll just put in the work myself and pick up extra work with my vet," he says.
Chris credits his dog Phoenix with helping him and his mom live better.
"He can tell when one of us is having a bad dream and will paw at the door until we let him in," he says. "He's helped us through a lot."
Now, with a combination of creativity, compassion, and a strong work ethic, Chris Young is returning the favor.