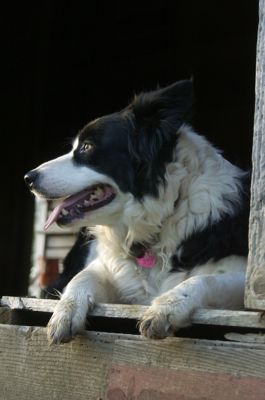 Border Collie
5 Healthy Dog Breeds
Knowing as much as possible about dog breeds is the first step to choosing the right companion for your family or farm. Each breed has its own personality and physical characteristics, and many breeds are prone to specific health problems. Whether you plan on using your dog for work, show or just to keep you company, choosing a dog with a healthy track record can save you money and heartache. The following five breeds are some of the best.
1. Australian Cattle Dog
Australian cattle dogs are one of the healthiest and most intelligent breeds available. They typically have no serious health issues and can live up to 13 years with proper nutrition and the right amount of exercise. Australian cattle dogs, like their name implies, are bred for herding and appreciate an active lifestyle with plenty of room to run. These incredibly strong, agile dogs also like challenges that stimulate their minds, so they're perfect for agility training.
2. Border Collie
Border collies have very few genetic conditions that could impact their health, making them another great option when it comes to choosing a healthy breed. Like the Australian cattle dog, border collies are known for their intelligence. These high-energy dogs have a lifespan of about 14 years and are perfect for young families, small farms or anyone with an active lifestyle who wants a constant companion.
3. English Springer Spaniel
English springer spaniels are known for their playfulness and gentle manner. They have very few genetic issues when it comes to health, although they can suffer with minor eye problems. Springer spaniels have a life span of about 14 years.
4. Australian Shepherd
Although predisposed to hip dysplasia and some eye problems, the Australian shepherd is an overall healthy, hearty breed. Known for its beautifully colored eyes and coat, the Australian shepherd is a working dog that loves an active lifestyle. This intelligent breed can be a faithful companion for up to 15 years.
5. Mutt (Mixed Breed)
Although many people think only of purebreds when considering their first dog, mutts (mixed breeds) are some of the healthiest dogs available. Most mixed breeds are much less prone to heart disease, hyperthyroidism and other genetic conditions found in their purebred counterparts, and they are known to live longer, healthier and happier lives. And finding the just-right shelter mutt will cost much less than buying from a breeder.
Tractor Supply has everything you need to bring home your first furry family member. A full line, including crates, kennels, runs, food and training supplies, is available in store and online.
Sources:
https://www.tractorsupply.com/tsc/catalog/pets-livestock/dog