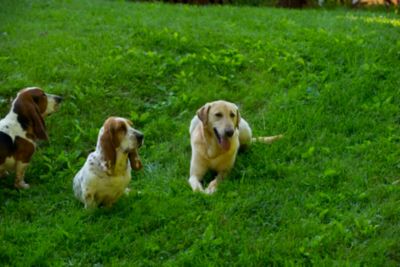 Five Reasons to Change Pet Foods
Like people, dogs and cats have different nutritional needs at different stages of life. Addressing these needs by making dietary changes is a great way to keep your pet happy and healthy at every age. Being alert to changes in the health of your dog or cat can help you and your vet determine if your pet's food is the culprit. Being aware of the need to periodically change your pet's food and why can help you decide if it's time to try a new food brand or formula.
Age
One of the biggest reasons to change your pet's diet is age. As with growing children, dogs and cats need different nutrients at different times to ensure optimal growth and development. The schedule for changing from puppy food to adult food depends on your pet's height/size at maturity. Smaller breeds mature between eight and 12 months old, medium breed dogs up to 80 pounds mature between 12 and 16 months, and large breeds weighing over 80 pounds can take up to 24 months to reach their full size. Feeding puppy food too long can cause unnecessary weight gain which can lead to joint and health problems in older dogs. The good news is that puppies and kittens are typically good at letting owners know when it's time to change. When they begin to show more interest in adult dog food or you see they are not eating the puppy food as vigorously as before, that's your signal to start introducing the new food. Food bags tend to have good guidelines about when to make the change from puppy food to adult food. But these guidelines are not hard and fast rules since every dog is different.
Other times when age plays a factor in making food changes is when your dog or cat reaches senior adult status. Older pets do not have the caloric needs of puppies or adolescent dogs or cats. A reduced-calorie formula at this stage of life helps control weight and provides extra cushioning for aging joints.
Digestive Issues
Digestive issues are a sign that your pet might need new food. Digestive problems can result from eating something that doesn't agree with your pet's tummy, whether from an intestinal parasite or from a stomach virus. These types of digestive issues usually resolve in a few days, but if the condition gets worse, if there is any blood in the stool or if your pet is vomiting, call your veterinarian right away. During times of tummy problems that haven't been caused by something more serious, giving your pet a diet of chicken broth and white rice is a great way to get things time to settle down. After 24 to 48 hours of rice and broth, gradually add in your pet's regular food, a little at a time, with each feeding. If diarrhea returns when the regular food is added in, go back to just rice and broth for a few more feedings and try again. Make sure your pet has adequate water and is drinking regularly during times of intestinal distress to prevent dehydration.
Food Allergies and Sensitivities
Sudden digestive issues can also signal food sensitivities or allergies in your pet. Hair loss, hot spots and extreme itching/scratching mean a dietary change might be in order. Your veterinarian may recommend an elimination diet and the use of "novel proteins" to determine what food is causing the problem. Pets can develop sensitivities to some of the most commonly-used proteins in pet food, such as chicken, beef and turkey, as well as to wheat or gluten. Choosing pet foods with "novel (new) proteins" means using a protein your pet has never had before. "Novel proteins" are less commonly used and include: bison, duck, rabbit, salmon and venison. Check the labels carefully to be sure the food you are considering has none of the more common ingredients added in as filler. If your dog or cat likes the new food and is having no further problems, adding back in other foods isn't necessary unless your vet feels that is important to determine the exact food sensitivity.
Boredom
Sometimes, dogs and cats need a change of food out of boredom. If you notice a decrease in your pet's appetite and no medical reason seems to be the cause, try changing up the food to see if that helps. Eating the same food every day for every meal for years can lessen a pet's desire to eat. This can result in unnecessary weight loss, lethargy and an unhealthy coat. Different flavors and textures can spark a pet's interest and get them eating and feeling better again quickly.
Pet Food Recall
Paying attention to pet food recalls can prevent unnecessary health problems and protect your pet from harm. Pet food that is contaminated can cause foodborne illnesses that lead to big vet bills and ongoing medical issues. Even if your pet likes his kibble, changing to a different brand until that brand is deemed safe to use again is the smart choice.
It's important to remember when changing your pet's food to do so gradually. Start by adding a small amount of the new food to the old food and increase it each day until only the new food is being eaten. This reduces the risk of stomach upset in your dog or cat. Tractor Supply Co has a full line of high-quality foods to meet your pet's changing nutritional needs.