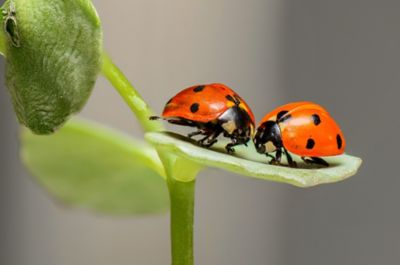 Natural Pest Control Tips and Tricks
Contributed by The Old Farmer's Almanac Staff
Banish insect pests from your garden with these natural repelling techniques.
Plant Herbs That Naturally Repel Pests
Some plants naturally repel garden pests by either smell or taste, while also providing you with fresh herbs.
At the edge of your garden, plant a variety of the following herbs to deter pests: basil to repel houseflies and mosquitoes; lavender for moths, flies, and fleas; thyme and dill for tomato hornworms, squash bugs, and cabbage loopers; and nasturtiums for whiteflies, aphids, squash bugs, and a variety of beetles.
Encourage an Insect Predator Habitat
Some insects are called predator insects because they hunt and eat other bugs. Predator insects include ladybugs, lacewings, minute pirate bugs, and praying mantises. Other beneficial insects are known as parasitoids, meaning that they lay their eggs in a host insect. After the eggs hatch, the developing young will eat their host. Examples of parasitoids include braconidae wasps, ichneumon wasps, and chalcid wasps. Spiders are also helpful as they eat small and large insect pests, so even if they frighten you, know that they do more good than harm.
Both kinds of insects, as well as spiders, are friends to gardeners because they eat or kill many of the pests that trouble your garden. Help to protect your garden by encouraging predators and parasitoids to live nearby. To attract these insects, grow perennial flowers and herbs that can be used by beneficial bugs as supplemental food sources and habitat. These include Queen Anne's lace, anise hyssop, pale-leaved sunflower, chives, basil, and cilantro. In the fall, grow cover crops such as buckwheat for ladybugs and lacewings; a variety of clovers for many kinds of parasitic wasps, minute pirate bugs, and ladybugs; and hairy vetch for minute pirate bugs, ladybugs, and predatory and parasitic wasps.
Use These Five Simple Home Methods
Sometimes you just have to take matters into your own hands. Each of the following uses easy-to-find household items and ingredients that will repel pests while leaving the plants unharmed.
1. Garlic Spray
A general insect repellent is garlic. Mash and blend a couple of bulbs of garlic, pour 1/2 cup of boiling water over the mix, and leave for 12 hours. Once cooled, strain out the garlic mash and pour the liquid into a clean spray bottle. Apply the spray to the bottoms of leaves of all affected plants every day or as often as needed, until all signs of pests have disappeared.
2. Apple Cider Vinegar
Apple cider vinegar will get rid of fruit flies and aphids in the garden. Simply pour enough vinegar into a jar or open container to cover the bottom. Settle it securely in the soil near the affected plants. The bugs will be attracted by the smell, fall in, and drown when they can't crawl back out.
3. Orange and Banana Peels
Cut up orange and banana peels and bury or scatter them in the soil around the garden. D-Limonene is a naturally occurring chemical found in both kinds of peels. When ants and aphids touch the peels, the D-Limonene breaks down the waxy coating that covers the insects. Without the coating, the insects die.
4. Eggshells
Save your eggshells to save your garden! Crush eggshells and spread them on the soil at the base of vegetables around their stems. Many insects, cutworms, and slugs will approach the plants and cut their bodies on the shells as they move over the soil. The wounds they receive from the shells will dispatch them.
5. Hot Peppers and Ginger
Blend a few hot peppers or a tablespoon of ginger with a quart of water and a teaspoon of castile soap. Let the mixture sit for a few hours and then strain out the solids. Pour the liquid into a clean spray bottle and apply to the bottoms of leaves of affected plants. The hot peppers and ginger both contain a chemical called capsaicin, which burns insects.