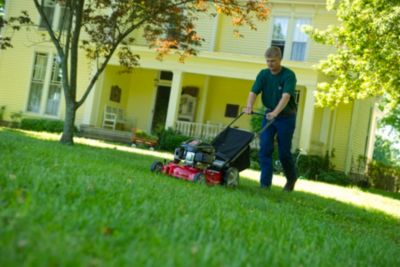 Lawn Chemical Safety
A beautiful lawn needs the right amount of water, nutrition and pest control. A healthy lawn is much more pest resistant than a lawn that is dry or depleted of vital nutrients. But finding the right balance of pesticide application, hydration and lawn food can be tricky. And because pesticides can be harmful, applying them at the right time and in the right way can seem a little daunting. Finding the right balance of water, natural lawn care and pesticide application can give you and your family a worry-free lawn that is lush and safe. The following steps will get you started.
Read Pesticide Labels
One of the simplest and often overlooked ways to safely apply pesticides to your lawn and garden is to read the label. Labels provide consumers with all the information necessary to safely apply the product inside the bag or container. For instance, hose-end sprayer product amount to water, spreader settings, when to apply and how long to keep a sprayed area pet and childfree are all part of label directions. Following these simple guidelines and doing additional online research before an application can give you peace of mind that the product you're using is being applied in a safe manner. And following the label directions is vital to product safety and effectiveness. For example, if your grub control label says to use on a well-watered lawn, that means the product needs moisture to help it get where it needs to go. It also means the product could cause lawn burn if the area where it is applied is too dry. Take time to follow the steps given to ensure the product works as intended.
Pay Attention to Drying Times
Pesticides that are applied wet need time to dry before becoming fully effective and safe. Children and pets can bring liquid pesticides inside on feet and hands. This can lead to harmful amounts of pesticides in your living spaces, including on countertops and other food preparation areas. Going above and beyond suggested drying times can further ensure your children and pets aren't tracking in or consuming harmful pesticides from your lawn.
Water and Food
It may seem like applying pesticides and weed killers is the primary way to keep a beautiful lawn, but the things you do to improve your lawn's health before ever opening a bag or bottle can make the biggest difference. Lawns need approximately 1 to 1.5 inches of water each week to stay green and healthy. And that includes during the winter months. Water deeply two to three times each week rather than daily, and as early in the morning as possible but always before 10 a.m. A good rule of thumb is that if you can't push a six-inch screwdriver into your lawn, then it's too dry. Six inches deep is where a healthy lawn's root system is at its strongest.
Along with the proper amount of water, regular fertilizing gives your lawn the nutrients it needs to build a strong root system and stay green. Most fertilizing systems recommend an early spring feed to get things up and running after winter, a late spring feed to boost roots during this vibrant growing time, a summer feed to protect against drought, and a fall feed to strengthen roots and increase nitrogen stores for the winter. Most fertilizers come with built-in pesticides to feed and treat simultaneously. The two most important are grub and crabgrass preventer if either has been a problem the previous season.
Whether you're new at lawn care or an old pro at keeping your grass green and healthy, Tractor Supply Co has you covered. From seed to fertilizer and pesticides, we're your one-stop for a green lawn all summer long.