How to Control Fire Ants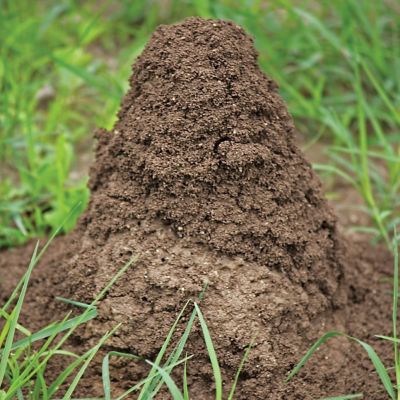 Fire Ant mound.
Reprinted from eXtension.org
When it comes to pests, fire ants probably rank near the top of the list. Red and black imported fire ants are invasive species and their painful bites can injure or kill livestock, wildlife, domestic animals, and humans.
Their large mounds — as many as 300 per acre — are unsightly and often damage mowers and other equipment. Fire ants also infest buildings and can damage electrical equipment by chewing on wire insulation.
Fire ants cost Americans $6 billion a year, including the cost of insecticides. The Two-Step Method and other approaches can lower that cost while reducing environmental damage and improving fire ant control.
Fire ants cannot be eliminated entirely because it is not possible to treat all infested areas. Some nests may go undetected. Even an area where every mound has been treated can soon be re-infested by fire ant colonies migrating from untreated areas or floating there on flood water.
There may not be one best method for fire ant control, especially in large areas. Your objective should be to find the method or methods that are most cost-effective, environmentally sound, and fit your tolerance level for fire ants. In areas where these ants do not present problems, doing nothing is one option.
The Two-Step Method
The simple Two-Step Method is likely to be the most cost-effective and environmentally sound approach to treating medium to large landscape areas.
Step 1. Broadcast a fire ant bait once or twice a year to reduce fire ant colonies by 80 to 90 percent.
Step 2. Treat nuisance mounds or colonies that move into the bait-treated areas.
The bait you apply determines how quickly ants will be controlled and how long the effect will last. Faster-acting bait products may need to be reapplied more often than slower-acting and longer-lasting products.
Products that combine fast- and slow-acting ingredients may control ants better because they act quickly and last longer.
Individual Mound Treatments
Most people try to control fire ants by treating individual mounds. Mound treatments are expensive and require lots of time and labor if you have much land to treat.
However, it is a suitable approach for small areas with few fire ant mounds — fewer than 20 per acre — or where you want to preserve native ants.
Bait products can be used to treat individual ant mounds and are ideal for treating inaccessible colonies such as those nesting under sidewalks, in plant beds, and at the bases of tree trunks.
Ants are killed only if the insecticide contacts them, so proper application is essential. These treatments are most effective when ants are nesting close to the mound surface, as they do when the temperature is mild.
Make a Management Plan
Chemical control lasts only as long as the effects of the insecticide used, or until new ant colonies move in from untreated areas. You can expect an ant infestation to return to its original level eventually.
To reduce the cost and make control easier, consider making a map of your property. Divide the property into treatment areas and designate the most appropriate treatment approach for each area. Make and maintain a schedule for first treatment and any necessary re-treatments.