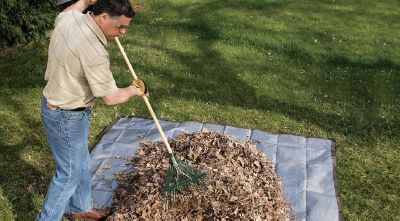 Three Tips for a Successful Fall Cleanup
Getting your lawn and landscaping ready for a long winter's nap requires a strategic cleanup when cooler winds begin to blow. But it's hard to think about fall cleanup when you're still enjoying those last few boat outings and bonfires. Knowing what you need to ahead of time to get your yard ready for winter and when to start helps make the project manageable. So, go ahead and enjoy your flip flops for a few more weeks and use these tips to get that fall cleanup done.
Stock Up on Supplies
No fall yard cleanup should start without the right supplies. If your city or municipality offers yard waste pickup, you'll need plenty of yard waste bags for all those leaves, spent flowers and other debris. If you don't have curbside yard waste pickup, then the biggest black trash bags you can find are the way to go. Make your raking job even easier by adding a plastic or cardboard leaf funnel to your list for easier bagging. And if raking isn't on your list of favorite things to do, consider adding a mulching blade to your lawn mower. Mulching blades chop up the leaves so they can stay on the ground, be added to your compost bin or turned into your garden.
Along with plenty of bags and a funnel, you'll need some good-quality rakes, a pair of sharpened trimmers and some pruning shears. If you have large tree branches, bushes or other plants with big stems, a chainsaw and a pair of loppers is a great idea as well. And don't forget a few pairs of heavy-duty work gloves to protect your hands from the blisters, splinters and scrapes that are an inevitable part of fall cleanup.
Remove Debris
Along with leaf removal, getting rid of weeds, spent plants and dead or dying tree limbs in the fall can help you get your yard up and running more quickly in the spring. Piles of rotting leaves in corners, on flower beds and around trees can invite pests and disease that overwinter in moist areas. Use a leaf blower to blow debris out of corners and into the yard to make disposal easier. Cut away any dead tree branches to prevent winter damage to your house or garage, and prune back flowering perennials and vines, like clematis, that are already done for the season. Late-blooming perennials can be the last on your list to remove after all the blossoms are spent. Consider leaving dried perennials in place that have tasty and nutritious seed heads, like coneflower and black-eyed Susan, for the birds that stick around in winter. Now is also a good time to separate perennials, like hostas, that have gotten too big for their space. And replanting in places that need more color from your own supply will save you money in the spring.
Prepare the Lawn
Putting your lawn to bed properly before winter is the best way to ensure lush green grass in the spring. Lawns need extra food to establish strong roots that can hold up to winter snow and ice. Use a fall fertilizer that is high in phosphorus to encourage root growth and apply with a broadcast spreader following the manufacturer's direction for the size of your lawn. After all leaves and debris have been removed, give your lawn one last mow before the first frost. Ideally, your lawn should be approximately 2 to 2 ½ inches high by the time winter sets in. That makes it short enough to avoid snow mold and long enough to decrease the stress of cold weather.
Tractor Supply Co has everything you need for an efficient fall yard cleanup. From rakes and bags to mower blades and chainsaws, TSC has your fall cleanup needs covered.