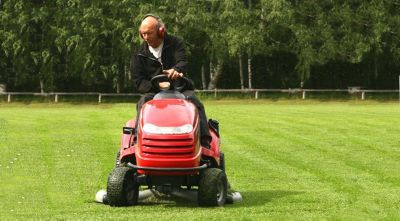 Select Replacement Mower Tires
Keeping your lawn mower tires in good working order is an important part of overall lawn mower maintenance. If your tires have worn-out treads, bulges or leaks, your mower won't cut evenly and punctures will be inevitable. Inspecting your mower tires for wear and tear and the beginning of every mowing season will help you avoid a lawn mower that's out of commission during the time when grass is growing fast. But with all the tire replacement options available, it's easy to choose the wrong tire which means times wasted on returns. The following tips will help you select the rights tires the first time:
Size
Like all tires, lawn mower tires come in different sizes based on use. Tire size is always identified by a series of numbers molded into the side that indicate the tire's specification. These specs are either in the two-number system or the three-number system. Mower tires with the two-number system identify the tire's width and diameter. In the three-number system, the first number before the X is the tire's diameter when inflated and not loaded, the middle number is the tire's width and the final number is the rim width. Popular tires for ride-on mowers and lawn tractors include 18x9.50-8 and 4.10/10-3.5-4.
Ply Rating
The next thing to consider when buying replacement mower tires is the tire's ply rating. There are two ply-rating options for lawn tractor and mower tires--A/2-ply or B/4-ply. As with the tire size, this number is stamped on the side of the tire. The B/4-ply tire is designed for more rugged terrain because it is thicker and more resistant to punctures. The A/2-ply tire designed for use on smoother surfaces that are mostly level. Knowing how and where the tire will be used can help you choose the proper thickness.
Traction
The final thing to consider when selecting replacement tires for your lawn mower is your traction needs. And that means knowing the terrain you mow regularly and looking for changes in that terrain from year to year. Mowers without the proper traction for the terrain will slip and slide, damaging the grass and creating ruts in the lawn. Mower tires come with three traction configurations: mixed-use turf tires, knobby all-terrain tires and ribbed tires. Turf tires are the most common and provide some traction on slick grass and mud without digging up the turf. All-terrain tires have larger treads for use on loose surfaces such as sand, mud or gravel. Ribbed tires have some grooves and slightly scalloped ribs that improve stability and keep the equipment from sliding. Ribbed tires don't provide as much traction as the other two options but are good multi-use tires designed to last a long time.
When to Change
Almost as important as knowing what kind of replacement tires you need is knowing when to change them. Lawn mower tires can be some of the most neglected lawn equipment you own and having tires that are in good condition can make all the difference in the world to your comfort while mowing and your lawn's appearance. According to TireBuyer.com, your mower tires need replacing when:
The sidewall of the tire is showing signs of dry rot.
The tire loses air pressure over relatively short periods of time.
There are multiple cuts in, or chunks missing from, the tread.
Loss of traction going up/down hills.
Rough ride while mowing.
Even one of these problems can impact your mower's performance. Make tire inspection and replacement as needed a regular part of spring mower startup.