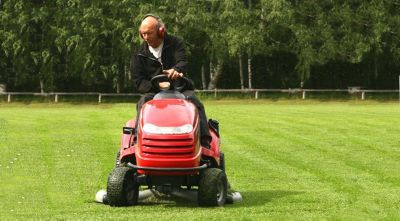 Lawn Mower Maintenance
Spring is here for many, and just around the corner for others. Even if Old Man Winter has yet to completely loosen his grip in your yard or garden, it won't be long before it's time for that first spring lawn trim. While you're waiting for the ground to warm and the daffodils to open, it's the perfect opportunity for some much-needed lawn mower maintenance. A good spring tune-up, as well as proper maintenance during the growing season, will keep your lawn mower running smoothly and cutting beautifully for years to come. The following tips can help get you -- and your lawn mower -- started.
Even if the oil in your lawn mower doesn't look too dirty, it's important to change it at the beginning of every lawn mowing season. Dirt, debris and other impurities can settle in your lawn mower's oil tank and cause damage to working parts. Check your owner's manual and follow the proper steps for changing your mower's oil before that first pull of the chord or turn of the key this spring.
2. Replace or Clean the Spark Plugs
Spark plugs provide the spark that ignites the gasoline that gives power to your lawn mower's engine. When the spark plugs are dirty or worn, or the gap is too big or too small, it can cause the engine not to start, to misfire and to idle improperly. Removing and cleaning or replacing the spark plugs at the beginning of each season will keep the motor running smoothly, improve overall performance and extend the life of your engine. Most spark plugs come with the gap preset, so changing them is as simple as a few turns of a spark-plug wrench. Even with preset spark plugs, it's a good idea to check the gap with an inexpensive gap tool after installing.
3. Replace or Clean the Air Filter
A clean air filter is vital to a smooth running engine. Most lawn mowers use an accordion-style paper air filter that can be removed and cleaned by blowing out debris with an air hose. When the filter gets too dirty or there's too much debris clogging the paper, it's time to replace. Consult your lawn mower user's manual for the proper air-filter size and how to replace it.
4. Clean and Sharpen the Cutting Blades
Just like a dull razor can leave behind hair, nicks and cuts, a dull lawn mower blade can leave behind unsightly patches of uneven grass and make your lawn mower work much harder. Grass trimmed with a dull blade tears at the grass rather than cutting it clean, leading to brown spots and disease. At the start of every lawn mowing season and then as needed, sharpen your lawn mower blade with a sharpening stone, metal file or motorized grinder. Remove the blade and pass the sharpening tool over the blade in the same direction as the bevel. Most lawn equipment companies offer blade sharpening if you're not comfortable doing the job yourself. Before sharpening, clean the blade with a stiff-bristled brush to remove buildup.
5. Clean the Mower Deck
The underside of the mower where the blade is housed is called the mower deck. Over time, the mower deck can get caked with grass, dirt and debris. This collected gunk can come loose and fall off during mowing, leaving unsightly clumps on your lawn that can cause damage. Regular hosing after mowing can help reduce buildup, but even mower decks that are rinsed regularly need a thorough cleaning in the spring. If you have a push mower, simply turn it on its side, remove the blade and use a putty knife to scrape off all of the buildup. Rinse with a strong hose spray when finished. For lawn tractors, the mower deck must be removed for this task.
6. Drain the Gas
Many of the problems lawn mower owners have with that first spring startup is water in the fuel line. Gas that's left to sit over the winter can cause moisture buildup in the gas tank, resulting in gas that won't ignite properly. Using up all the gasoline at the end of the previous season is the best way to prevent this. If you can't use up all that's left before winter, drain the rest of the gasoline out of the gas tank before leaving it for the winter. If you still have gasoline left in your tank at spring startup, consider adding some gas treatment designed to removes excess water in the gas line. Or simply drain the leftover gas and add fresh along with the gas treatment.
7. Get a Professional Tune-Up
It's fairly simple to maintain a lawn mower on your own as long as you're comfortable performing spring start-up and regular maintenance tasks. However, every lawn mower can benefit from a professional tune-up at some point in the machine's life. There's no hard and fast rule for when, but if it's been a few years and you notice your lawn mower isn't running as smoothly as in the past, it may be time to have it professionally tuned-up before your first mow this season.
Tractor Supply Co. has a complete line of lawn tractors, lawn mowers, parts and accessories designed to keep your lawn mower running smooth all season long. We have hundred of accessories in store and online to meet all your lawn mowing needs.