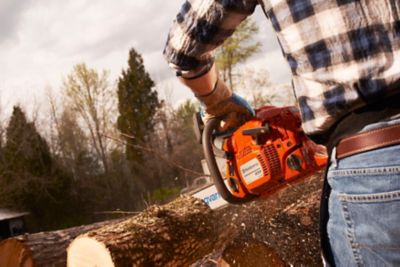 How to get your chainsaw started
The team at Husqvarna contributed to this article.
"How do I start my chainsaw?" is a common question amongst chainsaw owners. Working with Husqvarna, we've put together a guide on how to get your chainsaw running.
There are two ways to start your chainsaw considered the correct way to start a chainsaw: number one is on the ground or number two is with the saw between your legs. Whichever you choose, the chain brake should always be activated. Many chainsaws can be started in what is known as half-throttle position. The chain may rotate if the brake is not activated.
Starting a cold chainsaw engine
Make certain the chain brake is activated.
If your chainsaw has a decompression control – press this.
Activate the choke. If the chainsaw has a fuel pump, press the button a few times until the fuel is visible.
Starting on the ground: Put your right foot in the rear handle and hold the front handle with your left hand. With with the saw between your legs: Place the rear handle between your thighs and behind your right knee. Hold the front handle firmly with your left hand.
Pull the starter handle with your right hand. Repeat until the engine fires.
Push the choke and pull until the saw starts.
Let the engine idle and then release the chain brake.