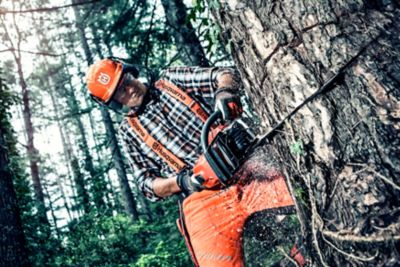 Chainsaw accessories you need to stay safe and warm
The Husqvarna team contributed to this article.
Rules and regulations vary in different countries to safety clothing and accessories. But no matter where you are, this list of items will enhance your safety when working with chainsaws.
Helmet including hearing protection, visor and protective glasses. A helmet should protect you from falling branches and other loose objects. To protect against sawdust spray, a visor should cover all of your face to protect against scratches. Protect against loud noises using hearing protection. Replace inserts and cushions for hearing regularly as they will become warn. Be careful to replace your helmet according to recommendations by the manufacturer. UV light causes the plastic in helmets to become fragile. A calendar inside the helmet can be helpful tracking usage.
Forestry jacket/shirt. Full upper body coverage should be provided by a forestry jacket/shirt, with high viz colouring and reflectors and it should be ventilated.
Protective trousers/chaps. Protective trousers must be fitted with saw protection meeting international standards. The saw protection should be a lining with several layers of very long fibres that become entangled in the chain and can stop a chainsaw in a fraction of a second.
Protective boots. Boots should be fitted with protective toecaps, saw protection and deep treaded soles including anti-slip protection in accordance with national standards.
Work gloves. Work gloves should always be worn to protect against cuts, scratches, oils and fuels. Make sure the left glove comes with saw protection.
A first aid kit should be easily accessible and close at hand.