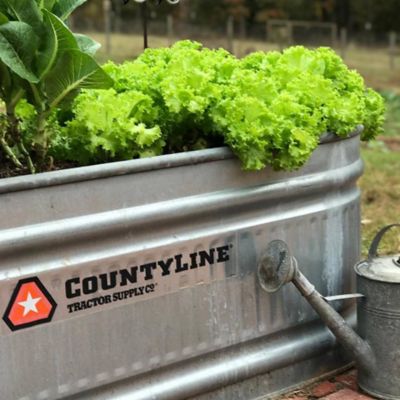 Thanks to Debra Lynn for this image.
Stock Tank Ideas
Stock tanks are made of galvanized steel and are used to hold water for cattle, horses and other livestock. But these shiny, sturdy bins that come in a variety of sizes aren't just for taking care of animals anymore. Creative homeowners are transforming this farm essential into everything from swimming pools to garden ponds. Why? Because they're a relatively cheap answer to an otherwise expensive project. Stock tanks are also finding their way into bathrooms, kitchens, mudrooms and even family rooms as a simple way to create a country look. Whether you're repurposing a farm tank or starting with a fresh new one, the following ideas can help you create something beautiful out of something ordinary.
Patio Garden
If the idea of tilling up a garden plot seems daunting, consider a galvanized feed trough instead. Filled with soil and organic material, a 6 ft. oval feed trough is large enough for one or two tomato plants, squash, pole beans, peppers and herbs. Add a trellis to support beans and other climbers and make sure the trough is located in a place with the right amount of sunlight. Drill a few holes in the bottom of the trough or place a layer of pea gravel or rocks before adding soil to promote drainage. Use smaller stock tanks as flower pots for beautiful blooms all summer long. Stock tanks can also be painted with any type of glossy outdoor paint for an additional pop of color.
Coolers, Pools and Water Features
Stock tanks are made for water! So using them in ways to add water to your garden or backyard is a natural fit. Stock tanks make perfect patio coolers. Just add ice, a little bit of water and canned or bottled drinks, and beverages stay cold all day.
And when it comes to adding a small pond to a garden, stock tanks are a quick and affordable way to get the job done. Locate the stock tank in a level area of your garden and use pea gravel as a base. Fill your stock tank with water and let it stand for two or three days before adding any plants or fish. This allows the chlorine and other chemicals in the water to evaporate. Add oxygenator plants for a small pump to help keep the pond clean. Add water lilies and fish for even more interest. You can read the full how-to HERE.
And if a pool or hot tub is your idea of backyard heaven, a stock tank can more than do the job. Kiddie pools, wading pools and even wood fired hot tubs are all possible with the right sized stock tanks. When you're looking for stock tanks for these projects or other uses, look no further than Tractor Supply Co. From 40-gallon ovals to 700-gallon rounds, we've got the right stock tank for your project. Use at your own risk. Follow your local city ordinance.