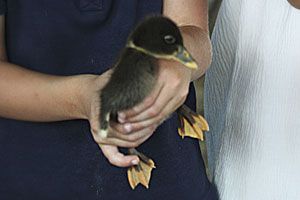 Raising Ducks
Ducks provide an excellent source of protein from both their eggs and meat. Ducks require a bit more space than chickens because of their love of water and foraging, but if your area is zoned for small livestock, a flock of ducks is doable in a reasonably sized backyard. Learning about duck breeds, forage, food and water can help you have your backyard quacking in no time.
Breed Basics
Cayugas and Pekin are some of the most popular backyard duck breeds for several reasons. Black Cayugas are medium-sized ducks used for eggs and meat and produce 100-150 eggs each year. Pekin ducks are the most common domestic duck. Pekins are large and white and produce the classic yellow ducklings people love. They are also good egg producers and are by far the most common breed of duck used for meat production – often reaching seven pounds within seven weeks of age.
Food and Forage
Ducks eat duck pellets and forage for insects, grass and weeds. Like chicks, ducklings need to have food and water available at all times because they grow so quickly. This is especially true until they are able to forage safely. Ducks can eat the same mash and grains fed to chickens but pellets are much easier for them to eat and produce less wastage. Young ducklings need crumbles, not mash.
Water
Ducks that have access to a pond, stream, bathing trough or kiddie pool don't require an additional water source. For those who don't have this kind of access, the water supply needs to be at least four inches deep to accommodate the bill. Ducks need to have most of their bills in the water when drinking to keep their mucus membranes moist. Ducklings should not swim unsupervised until their feathers are in and they are producing the oils that make them waterproof. Ducklings can drown easily if their baby feathers become waterlogged. Give ducklings 10 minutes of supervised swim time beginning at seven days old, and increase the time as they grow. After swim time, dry them completely with a towel and place them back in a warm brooder to keep them from getting chilled.
To prevent mud from forming around your pond or waterers, have a gravel walkway or make flooring out of 2x4's and cover with 1/2" hardware cloth or 1"x1" welded wire. In this way the spilled water soaks in to the ground and the ducks cannot make mud puddles.
Get everything you need to start your own backyard flock of ducks and chickens at our annual spring Chick Days. We sell ducklings, chicks, coops, feed and all the supplies you need to get you up and running quickly and easily.
Sources:
http://www.tractorsupply.com/landing-pages_events_chick-days