The Blue Ribbon Gang: Livestock Judges Share Insights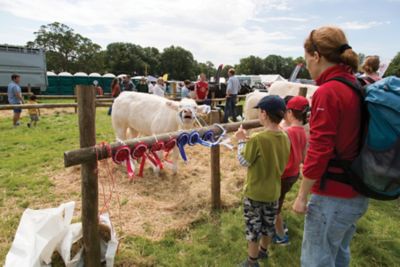 Showing animals helps build life skills and forges friendships that last a lifetime.
By Jodi Helmer
The moment the lambs walk into the ring at a county fair, livestock judge Darren Clouse has a good idea of which one will walk away with the blue ribbon.
"A clean, attractive lamb that is calm and at ease (with its handler) stands out and gets my attention," explains Clouse, a sheep rancher in Sheridan, Ind., who has been judging lambs for more than two decades.
Although Clouse might pick favorites based on his initial impressions, he acknowledges that it takes an experienced judge and close inspection of each animal to choose a winner.
So, what does it take to win? With county fair season in full swing and coveted blue ribbons up for grabs, three livestock judges share what they look for in the ring.
Preparation Matters
Allison May travels from her farm in Manns Choice, Pa., to state fairs across the country judging cattle, sheep, goats, and swine. Too often, she encounters animals and handlers who are not prepared for competition.
"When you get into the ring, it exemplifies everything you did leading up to the competition," she says. "If you're not ready, it's going to show."
To improve the chances of showing well, May encourages competitors to get together with others in 4-H or FFA programs to host mock shows; practicing will help performance.
Clouse agrees. He suggests attending "camps" designed to help competitors and their animals get show ready and increase the odds of taking home a blue ribbon.
Long before signing up for a competition and stepping into the ring, it's essential to devote time grooming the animal, optimizing its nutrition, and interacting with it. Judges notice how the animal looks and behaves.
Put on a Show
Most county fairs allow entrants in breeding and market categories. In both, livestock judges examine each animal, taking into account its overall structure and appearance as well as its meat and muscle mass.
In the ring, judges will go over each part of the animal, looking at its feet and legs, the line of its back and curve of its ribs and shape of its head. The animal is compared to the other animals in the ring and against the breed standard.
"I'm looking for a complete package," May explains.
Matt Macfarlane, a cattle rancher and judge from Sheridan, Calif., docks points if animals are under market weight.
"We want them to represent the best of their breed," he explains. "An animal that is too thin should not be in the ring."
Because the animals are examined during judging, it's essential for them to feel comfortable being handled. Pre-competition grooming and handling will help.
At the fairgrounds, Clouse also suggests taking animals straight to the ring to practice. Most fairs, he explains, allow competitors access to the ring in advance of judging to familiarize the animals with their new surroundings. The extra time will ensure the animals are at ease with the feel of the bedding beneath their hooves and the unfamiliar scent of the ring and the fairgrounds.
"If you walk into the ring for the first time on show day, I can about guarantee the animal will be nervous," Clouse says.
Preparation combined with great showmanship, according to Clouse, can lead an average animal to place higher in the competition.
To make a positive impression, competitors should greet judges with a smile, have good control of their animals, and avoid standing between the judge and the animal in the ring, which blocks their view. If something unexpected happens, respond with professionalism.
"Nine times out of 10, the animals aren't going to do exactly what you want them to," May says. "The judges are looking to see how you handle that."
While the animals might be the main attraction, handlers are competing, too. During the show, Macfarlane asks competitors a lot of questions about their animals and takes their responses into account when choosing a winner.
"I want to know that these kids are taking it seriously," he says.
While choosing the right animal and working hard to prepare for competition are essential, Clouse believes that showmanship must be a top priority.
"If you're prepared and present well, the judge will remember you," he says. "You can have the best animal at the county fair but if you can't show it well, it will get overlooked; to be a winner, you have to be a great showman."
Have Fun
Sometimes even the most prepared competitors and show-ready animals don't walk away with a blue ribbon. It's important not to lose motivation to compete again.
"Livestock judging is very subjective," says May. "The judge last week might not like your animal but the judge next week might really like it; you have to stick with it."
Competitors have opportunities to win scholarships, travel to competitions all over the United States, develop new skills, and make valuable connections. Livestock competitions also offer participants the chance to make new friends.
"The value of showing goes far beyond skills polished in the ring," May says. "It helps build life skills and forges friendships that last a lifetime."