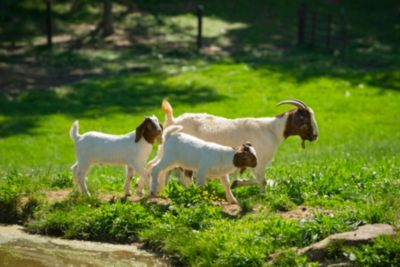 Using Goats to Clear Brush
Keeping goats on your small farm offers many obvious benefits. Goat's milk, cheese and meat, as well as selling kids, make raising goats a sustainable project. An additional benefit provided by goats is becoming more popular with small farmers, and that's brush control. Goats aren't picky when it comes to their diet, and they love to eat. This makes goats the perfect natural lawn mower for farmyards and pasture land. Getting started with goat brush control takes a few important steps.
1. Check the Browsing Area
Goats browse rather than graze, choosing the tastiest and most nutritious foliage available. Goats do not disturb the root systems of plants and grass, so they really act more like a lawn mower than sheep. Because goats are not too discriminating about what they eat, as long as it tastes good, the area where you plan to let your goats browse should be checked for toxic plants. Eliminating toxic foliage before releasing your goats to browse can prevent sick animals.
2. Secure the Browsing Area
Among other quirky personality traits, goats are known escape artists. Because they are always searching for the best-tasting treats, they pluck a few leaves from one plant and move to the next quickly. That means it's easy for them to be miles away from where they started by the end of the day. When planning to use goats for brush control, sturdy fencing is a must. To control the brush, goats need to stay in the browsing area until all the unwanted plant material is consumed. This allows for sun and water to get in and the grass to return. If the area is not secured properly, the goats will escape and move to the next area.
3. Provide Protection and Nutrition
Goats can get most of what they need from browsing, but it's important to supplement with hay during the winter months to provide balanced nutrition. Goats can eat grain, but it should be kept to less than 10 percent of their diet. Minerals are an important part of a goat's diet. Salt blocks are good for increasing minerals, and some supplements can help with things like bloating. Goats also need some sort of shelter in their pasture area to get out of the rain. It doesn't need to be fully enclosed, just something to keep them dry.
Using goats for brush control can be an inexpensive way to return overgrown areas to healthy pasture. Tractor Supply Co. has everything you need to build a secure fence for your goats' browsing area, and they have grain, minerals blocks and more to meet your herd's needs.