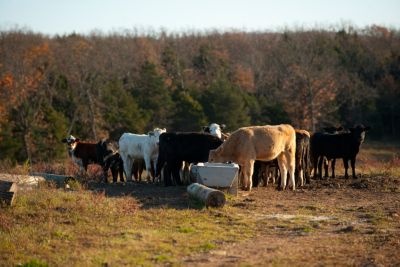 Diatomaceous Earth Uses
Diatomaceous earth (or DE for short) is a naturally occurring rock-like substance made from microscopic creatures called diatoms. These aquatic organisms live in streams, rivers, lakes and oceans. These organisms would die and fossilize over millions of years to create a sediment that contains high levels of silica. Because Diatomaceous earth is mostly made up ofamorphous silicon dioxide it acts as a desiccant (or drying agent). This highly absorbent material is part of more than 150 products on the market today. It can be found in everything from cat litter and natural pest repellents to toothpaste and water filters. There are grades of food-grade diatomaceous earth that are used in for pets, farm animals and even humans. To help you understand more about this versatile product, we've focused on some of its most popular uses.
Flea Control
Diatomaceous earth is a natural pest control that is safe for pets and humans, so it's an excellent choice when it comes to getting rid of fleas on cats and dogs. Fleas are parasites that live outside, inside and on pets. They infest the fur of cats and dogs and lay their eggs, resulting in a cycle that's hard to control. Getting rid of fleas at their source can keep your pets happy and flea free. Apply diatomaceous earth powder directly on the animal next to their skin and to areas where your pets spend most of their time. It can be used on carpets, in bedding, on toys and pillows, and cracks in floors or where walls and floors meet. Vacuum the areas thoroughly and make sure everywhere you plan to use the powder is dry. Dust the areas with the powder and leave for 12-24 hours, reapplying as needed. Vacuum the areas thoroughly, comb out any dead fleas and finish by bathing your pet to remove any powder residue that can dry out the skin and cause itching. Diatomaceous earth works best on the adult stage of the flea, so if adult fleas return, re-apply the powder and go through the same process until all the fleas are gone.
Livestock Health
Diatomaceous earth is also a popular feed additive for livestock. DE is an anti-clumping agent which means it helps prevent moisture in feed that can lead to mold or rot. This means the feed is in better condition and there is a more efficient transfer of nutrients to your animals making them healthier and stronger. It also saves money by preventing feed waste. Make sure you use food-grade diatomaceous earth and feed at a rate of 2 percent of the total feed weight. That's approximately 3 ounces of DE for every 10 pounds of feed.
Chicken Coops
Because DE is a drying agent, it has wonderful of DE's natural pest control properties that contains zero synthetic chemicals. It's the perfect option for controlling mites in chicken coops because it's gentle around the birds and easy on the environment. Mites, much like fleas, can be hard to control, especially since they tend to thrive in dark, warm places like chicken coops. The absorbency of the DE dehydrates the insects and prevents re-infestation. After thoroughly cleaning the coop, which includes disposing of all infested hay and scouring the roosts, wash the coop floor with water. Once the floor is clean and has begun to dry, apply a light dusting of DE to the entire floor. Use a broom to spread the product evenly. Apply another layer to the roosting areas once the roosts have been removed. Add DE liberally to the new hay as you rebuild the floor, turning the hay with a pitchfork to distribute the product evenly. Finally, add a thin layer of DE to your chickens' dust bathing areas. As the chickens roll in the dirt, the DE will continue to prevent mites or fleas. If your chickens are infested with mites, you can apply the DE directly to the bird. Make sure you work the DE in next to the skin of the animal because that's where the insects reside. Especially in dark areas such as under the wings and close to the vent.
Tractor Supply Co carries diatomaceous earth for all your needs for healthier livestock and pets, and pest-free homes, ranches, farms and gardens.