Winter Cattle Care
By Heather Smith Thomas
Cattle grow long winter hair and can handle very cold weather, but some situations still can put them at risk for hypothermia.
Conditions that lead to cold stress include wind in icy temperatures, wet weather — wet hair can't act as an insulator — and inadequate forage. These stressed animals are more vulnerable to stress-related illnesses.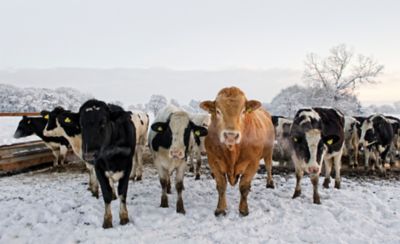 Cattle need more care and food during cold and wet weather because they need the food to generate body heat. Forage is broken down and digested by microbial action, and this fermentation/breakdown process produces heat for the cow's body. That means that hungry cows are cold cows.
Feed requirements for cattle in cold weather may go up 10-15 percent. Thin cows suffer more cold stress than fatter cows because fat serves as insulation and a source of energy reserves. A thin cow must rob even more body fat to keep warm.
Old, thin cows, sick animals, or those with compromised health conditions suffer more cold stress and may succumb to hypothermia more readily than fat, healthy cattle.
Newborn calves are also at much greater risk in cold weather. They are wet, and chill quickly unless mama licks them dry.
Young calves can't produce as much body heat as a cow. They also don't have as much body fat for insulation. A newborn has only a few hours' energy reserve in stored fat and therefore needs to nurse quickly.
Make sure calves get up and nurse within the first one to two hours if weather is cold. Colostrum — the first milk produced by the mama after birth — not only boosts the calf's immunity system, but it contains a high level of fat to give instant energy that will help keep the calf warm.
Winter danger doesn't stop there. In severely cold weather, a wet newborn calf may suffer frostbite within an hour or less. His ears, tail, and even his feet may freeze because there is less blood circulation to these extremities.
In any animal during cold weather, blood is shunted to internal organs to keep them warm enough for survival, and the extremities suffer. Even after calves are dry, they may be at risk for hypothermia the first 48 hours because they are less able to regulate body temperature.
It's crucial to provide shelter for young calves. They don't handle wind chill very well because of their small body mass.
If you don't have a barn or a three-sided structure, natural windbreaks, such as trees or brush, can provide good protection for both young and adult cattle. In pens or pastures, boards on fences can reduce wind chill by up to 70 percent.
In adult cattle, extreme wind chill can result in frozen ears, frostbitten scrotums, and frostbitten teats, especially if cows frequently have wet teats from nursing calves.
Adequate bedding can help protect cattle from dangerously cold weather. Cattle draw up their front legs under their body while lying down, but without bedding, hind limbs are exposed to the cold. Straw, extra hay, wood chips, or shavings enable cattle to snuggle in and reduce the amount of body surface exposed to wind.
Indeed, energy requirements for cattle in sub-zero weather without bedding may increase by 12-15 percent, just to offset the heat lost when cattle have to lie on frozen ground.
Preventing frostbite is crucial. Damage can range anywhere from ear and tail damage to infertility to death. And once circulation is lost, treatment won't help.