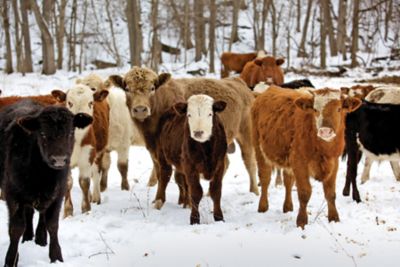 Winter Lice in Cattle
By Heather Smith Thomas
Summer would seem to be the logical time when cattle are bugged by insects and other pests, but winter offers its own irritating infestation—lice.
Lice are a common winter problem, especially in cold climates where cattle have long winter hair that provides refuge for the tiny insects.
There are two kinds of lice: sucking lice feed on blood, and chewing lice feed on skin A few lice are present on cattle year-round, but numbers increase dramatically in cold weather.
You can see these tiny parasites if you part the hair with your fingers, particularly if you use a magnifying glass and flashlight. Their eggs are white, yellow, or black specks attached to hairs.
Your cattle will most likely let you know they have lice because they'll rub on fences and buildings to stop the itch. Consequently, they'll rub out patches of hair and damage their skin.
And if one animal in a group has lice, the entire group is infested to some degree.
When lice are numerous enough to cause itching, cattle are miserable and don't gain weight or produce milk as well as they should. The lice-infested animal may become anemic and more susceptible to disease.
Correct Treatment
The goal of treatment in late fall is to knock down the population so that by January there won't be a massive outbreak. Most products kill just adults but not the eggs. After treatment, eggs can still hatch, and three weeks later, cattle have lice again.
Label directions recommend retreatment in two to three weeks to kill those young lice before they mature and start laying eggs.
Timing of initial treatment is important. Often, cattle are treated for lice the same time cows are being vaccinated and pregnancy-checked, and this may be too early. If you treat later in the fall or wait until early winter, there's less opportunity for lice to rebuild.
Sucking lice can be controlled with injectable systemic products, but chewing lice don't suck blood and aren't affected. Pour-on products or sprays kill chewing lice as well as sucking lice.
When treating cattle in late fall/early winter, make sure every animal is treated, and with an adequate dose. If it's a pour-on, apply from head to tail. Lice are found on the nose, dewlap, in the armpits and groin area. They move around, however, and are more likely to come into contact with the product if the dose is spread out allalong the back, neck, and poll.
If you put it all in the middle of the cow's back, it's a long ways to the nose, brisket, or armpits from that one spot and some lice may not contact the product. If cattle are under-dosed, some lice survive and numbers increase again, making that treatment ineffective.
If cattle are itching and rubbing again by January or February, they need another treatment; they'll be adversely affected by cold temperatures if large patches of hair are missing.
You usually don't need to treat again if a few lice appear by late March or early April. Even on untreated cattle, lice numbers start dropping by spring because they don't tolerate heat.
If some animals are not treated—or inadequately treated—and then have contact with treated cattle, the untreated ones spread lice to the treated cattle once the product's activity wears off.
Other methods besides pour-ons and injectables are useful, such as insecticide dust bags or oilers that allow cattle to self-treat, or insecticide ear tags labeled for lice. Self-grooming—licking and rubbing—helps keep numbers down, but long winter hair reduces effectiveness of the tongue to pull lice off.
The tongue is a great grooming device, but with thick hair, the tongue can't get to lice that are right on the skin.