Keep young calves healthy and growing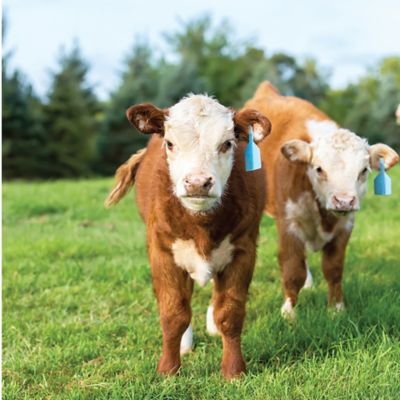 Reprinted from extension.org
Having bought a calf, or calves, from the sale yard or through a private sale, you need to ensure that you are prepared to provide care and a healthy environment for them.
Housing
A small paddock or pen will be needed to confine the calves for the first few days to help them acclimate to your property; young calves need time to investigate and ease into their new environment. Small paddocks or pens can also be used to isolate the calves from other animals to help prevent the spreading of diseases. This initial step is important for the biosecurity of other animals on your property.
It is very important that the calf's housing be dry and draft-free. Prior to weaning, it is best to keep the calves penned separately. After weaning, calves can be grouped together based on age and size.
Calves should be provided natural or constructed shelter for protection against weather extremes. Indoor pens should be bedded to help keep the lying surface dry and comfortable.
Feed and Water Upon Arrival
Young calves will need to be fed milk soon after arrival to your property. Ensure that clean, safe water is always available and offered in ways that minimize contamination by urine, feces, and other materials.
The holding paddock or pen is also a good place to introduce your calves to some hay. When you finally introduce your weaned calves to a larger area, it is best to continue giving hay for at least the first two days, so that their rumen (stomach) has time to gradually adjust to the pasture or grain feed.
General Feeding
Clean, fresh water must always be available. Be aware that water consumption will vary with size of the calf and weather conditions.
Prior to weaning, calves should be fed whole milk or milk replacer containing at least 20 percent fat and 20 percent protein. Calves should be fed daily about 10 percent of their body weight in milk or follow the guidelines listed on the milk replacer. A calf starter — grain or pellets specifically formulated for calf growth — and water should be offered free choice.
Calves can be weaned when they are eating 1 to 1½ pounds of grain per day for three consecutive days. To initiate weaning, reduce the milk in half for one week before ceasing the feeding of milk.
After weaning, calves can be fed only a pelleted calf grower until they are about 300 pounds or they can be fed calf grower and hay or pasture. Calves cannot survive on pasture or hay alone until they weigh more than 300 pounds.
Health Assessment
While the young calves are being held in pens or small paddocks, use this opportunity to assess them daily.
The most important things to look for are:
Injuries that might have occurred during transport.
Lameness or uneven gait.
Evidence that the calf is sick — lethargy, sunken eyes, drooped ears, panting.
Consistency of the feces — evidence of diarrhea and/or blood in the feces.
If you do not have a great amount of previous experience with young cattle, contact your local veterinarian immediately if you notice any problems.
Please remember that young calves require ongoing supervision and maintenance to stay healthy. Many problems can arise when raising calves, but the risks decrease as the calf matures.