A Turkey's Tale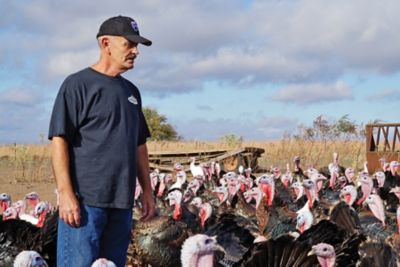 Frank Reese raises about 10,000 birds annually
Story and photography by Jeannette Beranger
For Frank Reese, a longtime turkey breeder, 2016 has been a year of celebration, marking the 100th anniversary of his line of Standard Bronze turkeys.
This bird once was critically endangered. But thanks to Reese and other heritage turkey breeders, the breeding population has risen to more than 2,500, and the Standard Bronze has moved away from "critical" to "watch" on The Livestock Conservancy's Conservation Priority List. The conservancy uses this list to bring attention to livestock, such as the Bronze turkey, to connect them with people interested in saving a rare breed.
When European colonists first came to the Americas, they were surprised to find turkeys among the domesticated animals of the Native Americans. Based on archeological evidence, turkeys were first domesticated around 2,000 years ago by the Aztecs in Mexico.
By 1700 domestic turkeys became widely available in the mid-Atlantic region and all along the coast in the South. Crossing these turkeys with the Eastern Wild turkey produced larger and more vigorous birds that were much tamer than the wild birds. These crosses resulted in what would become known as the Bronze turkey.
In the 1800s, breeders began to standardize the Bronze breed and finally in 1874 it was accepted into the American Poultry Association's Standard of Perfection.
It was known for the beautiful iridescent green "bronzing" on the surface of blackish feathers on its neck, breast, and wings. The Standard Bronze would reach a mature weight of 36 pounds for toms and 20 pounds for hens who could lay 60 or more eggs per year.
In the 20th century, more selection for greater breast size resulted in a "Mammoth Bronze" type bird, which was then crossed with broad-breasted English Bronze turkeys to eventually create the Broad-breasted Bronze. The improved meat production was desirable but it came at a cost with a reduction in the number, fertility, and hatchability of eggs.
Eventually the birds became so large that they could no longer reproduce naturally and they became thoroughly dependent on artificial insemination for reproduction. Despite this, the Broad-breasted Bronze would come to dominate the turkey industry until it was replaced by the Large White turkey in the 1960s.
By this time, Standard Bronze turkey numbers plummeted and by 1999, only 300 breeding females could be found. At this time The Livestock Conservancy jumped into action and took initiative to increase numbers of birds, network existing breeders, educate a new generation of turkey producers, and create markets for these traditional birds.
Reese began with a trio of Bronzes when he was just 11 years old, and today raises about 10,000 birds annually.
"We are incredibly proud to have preserved this lineage of America's best turkeys," he says. "Something that started as a handful of eggs is now a thriving flock."