Tending to your Tack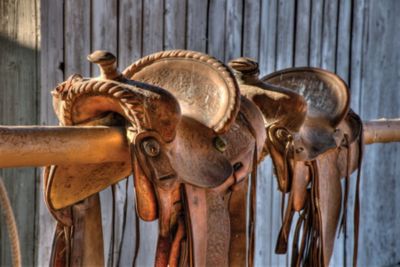 The investment in good leather will go a long way if you take care of it properly
By Colleen Creamer
Saddles, bridles, and other tack can be expensive, but the investment in good leather will go a long way — in both value and safety — if you take care of it properly.
"One thing that is helpful when you buy a saddle is to contact the manufacturer to find out what that manufacturer recommends for leather care," says Colleen Meyer, owner of the saddle fitting company Advanced Saddle Fit in Marlborough, N.H., and a qualified saddle fitter in the society of Master Saddlers from Great Britain.
Cleaning your tack after each ride will save hours of needless work and money on replacement items, she says. Dried grass on a bit takes some elbow grease if it's not cleaned when still wet and some leather never recovers from use without proper care.
"I use a cream soap every single time I ride to wipe my bridle and my girth, especially under the girth, because they're sitting right on the skin," Meyer says. "I do not want anything that has sweat on it to dry. Salt will break leather down faster than you can believe."
Meyer uses inexpensive round car wash sponges to clean and apply cream conditioner to the girth and bridle, to clean and condition at the same time.
A cream with mold retardant is important, she says, because mold is particularly aggressive, and ferreting it out once it takes hold is nearly impossible.
"There is a lot of ambient mold in barns," Meyer adds. "And once mold has colonized your leather, you will never eradicate it; it will get into parts of the saddle you won't be able to reach."
Handling and cleaning your tack helps battle mold, she says.
"Say you have a few mold spores land on your saddle, but every day you've been taking it down to ride; you were disturbing those molds spores," she says. "They are going to be much less likely to colonize your leather if they are disturbed."
Covering saddles is a good way to prevent mold and dust. Dust particles have very tiny sharp angles that can damage saddles if ground in. Covering also prevents barn cats from using saddles as scratching posts, which commonly happens.
Water also can be damaging to tack, so treat wet leather immediately and carefully, she says.
"When you get your leather wet, the pores of the leather swell, and then when it dries out it gets really stiff — if you haven't conditioned it. When leather is wet it's also very weak, so you need to handle it carefully," she says. "Let it dry naturally, not in the sun or in a hot car."
Tack safety and tack care go hand-in-hand, Meyer says. If you rarely clean your saddle, you won't know what kind of condition the saddle's billets are in, and if the billets break, so will your connection with your stirrups, putting you in a dangerous situation.
"If you don't clean and condition them, they will likely dry rot and be much more likely to fall apart," Meyer says.
Consistent tack care will help you protect your investment — and yourself.