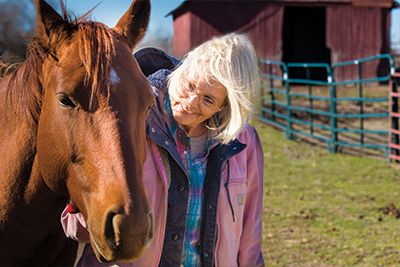 Rescue Horses
Most horse owners are caring people who love their animals. But in some cases, horses are abandoned because their owners die or can no longer provide for them. In West Virginia, Kentucky and Ohio, abandoned horses run in herds and are left to fend for themselves, often starving and dying during harsh winter conditions with little food. Horse traders release stock purchased at auction onto abandoned or active mine land or into the mountains because they don't have enough space to keep them.
Breeding isn't controlled and many feral foals are born each year subsequently culled from the herds by the horse traders. It's conditions like these that organizations like Gentle Giants fight to end. Located in Mount Airy, Maryland, Gentle Giants offers hope to draft horses that are no longer able to pull a plow and end up on the auction block. Gentle Giants save these animals from "kill buyers," who slaughter the animals for their meat. They then provide the draft horses with proper medical care, nutrition and rehab, and work to place them in their forever homes.
Whether you're adopting a horse or donating supplies to an equine rescue, Tractor Supply Co has everything you need. From saddles and halters, to grooming and feed, we're your one-stop-shop for all things equine.
Sources:
https://www.tractorsupply.com/landing-pages_catalogs_equine
http://www.aspcapro.org/aspca-help-horse-day
http://www.gentlegiantsdrafthorserescue.com/