Racing horses find a new career re-enacting history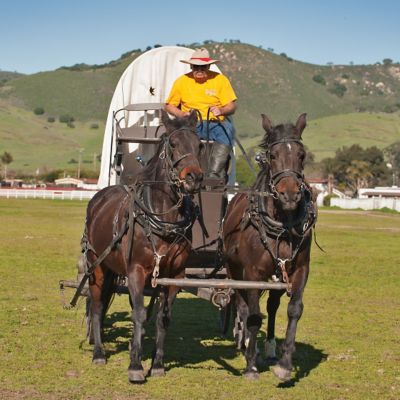 After experiencing a few different breeds, Winfrey came to love Standardbreds.
By Hollie Deese
Photography by Frances Loza
Racehorses who are no longer winning and face an uncertain future are being given a second shot at life and, in a way, the chance to live out their final years in the service of their country.
The California Historical Artillery Society (CHAS) is a non-profit, educational organization dedicated to preserving the life and times of historic artillery, and is the only West Coast horse-drawn artillery group in existence.
To get those horses, the nonprofit, near Salinas, Calif., rescues Standardbred trotters from the Sacramento, Calif., Cal Expo Harness Racing Track who can no longer race and would likely be sold and slaughtered for dog food. People like Dennis Winfrey then train the rescued horses to pull numerous pieces of rolling stock in parades, school day events, and civil war re-enactments.
The retired racers are just right for artillery work because they have already been exposed to loud noises and crowds at the track, and because their herd mentality aids in them picking up new routines by following the more experienced horses, says Winfrey, one of the organization's founders.
"The old saying 'You can't teach an old dog new tricks' may be true for dogs, but that's not true for horses," Winfrey says. "Basically, Standardbreds are just buggy horses. They are very calm, tame horses."
The Beginning
Winfrey got interested in horses in the late 1960s after he and his wife left the city to farm commercial flowers. Eventually, their children wanted a horse.
"That was the start of it," Winfrey says. "Then, I found out really quickly that horses were not a solo activity. The more, the better."
At that time the U.S. Bureau of Land Management had an Adopt-a-Horse program offering a Mustang from the government for $17, so Winfrey picked up a truckload in Nevada.
"It kind of went from there," he says. After experiencing a few different breeds, Winfrey came to love Standardbreds. He got his first rescue from the track around 1995 and founded the historic artillery society two years later.
"Maybe they weren't fast enough to make a living at racing, but this has become a second occupation for them," Winfrey says. "When push came to shove, the Standardbreds were just the best at the job. Once we got going we got support from the track. When we need horses, we call them up."
Over the years, the society has grown from performing at a few parades to participating in more than 30 events a year with four full-scale cannons, including one 10-pound parrot rifle, and one 10-pound Howitzer. The horses also pull an antique caisson, supply wagon, and ambulance.
"Because Dennis loves these horses, they all have a job their entire life or the pasture if they don't work out," says society volunteer Dee Murphy. "Some go to events once a year, maybe some go to four or five events. They live the life of luxury. They're fed. They've got a man that loves them. They have the best existence. Dennis is the best thing a harness horse has ever met."
Good for All
Winfrey has rescued more than 75 horses over the years, and without him CHAS would not exist thanks to his daily care of the nearly 30 animals on his 40 acres of land dubbed "Camp Warhorse," Murphy says.
Winfrey gets up before the sun to feed the rescued horses, plow the fields, load hay, fix fences, and more.
"Dennis is the reason I and almost 70 volunteers get to enjoy ourselves with cannons and especially horses," Murphy says. "He willingly makes himself available to a people of all ages to learn to drive teams of horses such as my younger daughter has done. Without Dennis there would not be a horse rescue."
And the group is doing more than saving the lives of the horses — it is earning plenty of accolades along the way too, including being recognized as the most authentic and highly trained horse drawn artillery unit in the country.
"Dennis brings out the best uses of these horses that otherwise would have gone to slaughter and recreates their lives into a living history which is to the betterment of all," Murphy says.
"Not only is it good for the public, but it's good for the people that volunteer. We have people that can't afford horses or don't have space for horses, or maybe don't want a horse, but they get to come and do all this stuff."
Their largest fundraising event of the year is the annual Duncan Mills Civil War Days each summer, but they also rely on individual sponsorships to help offset Winfrey's cost for the upkeep of the horses.
But even if there was no help, Winfrey would never turn his back on his former racers.
"Our horses," he says, "are rescued forever."