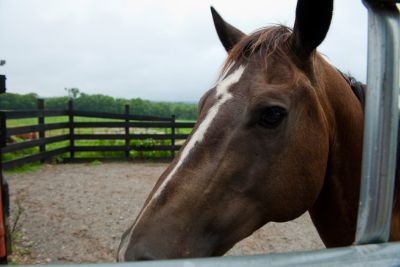 Horse Cooling
Horse Cooling
Keeping horses cool during the hot summer months is important for overall equine health. Horses that are worked too hard or ridden during the heat of the day are susceptible to unhealthy stress levels and heat exhaustion.
According to the University of Minnesota Extension, a horse that is working too hard in a hot environment can lose two to four gallons of sweat per hour. Since sweat is a horse's primary way of cooling itself, losing too much too fast diminishes its ability to regulate body temperature. Horse cooling devices, like fans and portable air conditioners, combined with the following steps, can help keep horses comfortable during the hot summer days.
To help reduce the effects of heat on horses:
Turn out during cool parts of the day -- morning and evening -- instead of midday or afternoon.
Provide access to shade at all times. Make sure the shade source has adequate air flow.
Watch for signs of sunburn to light-colored areas of the skin.
Use fans or portable air conditioners. Be sure that horses are well away from cords or plug to reduce the risk of electrocution
Provide access to cool water at all times. Horse drink six to eight gallons of water each day during cool temperatures and much more than that during intense heat.
Keep water sources clean. Buckets and tanks need regular cleaning during times of intense heat to prevent the growth of algae and bacteria.
Provide free access to salt to encourage drinking. Loose salt is better than a salt block. Offer electrolytes to horses who have been sweating, but make sure they also have clean water, since some horses don't like the taste of the electrolytes and will refuse to drink.
Clip horses that have long hair.
Reduce riding time and intensity.
Mist horses. Frequent mistings are more effective for cooling than one or two dousings with a hose.
Transport horses during the coolest parts of the day and make sure horse trailers are well-ventilated.
Horse Cooling Devices
Cooling devices, like the Portacool Classic evaporative cooler, offer horses access to cooled air as needed. Much like a whole-house air conditioner, evaporative coolers work by drawing warm, stale air through a fan into the unit. The air then passes over pads moistened with water and is cooled before being recirculated. The Portacool Classic is perfect for barns, stalls or any areas with an electrical outlet. Using a portable evaporative cooler helps control humidity in the barns, making it easier for horses to regulate their own body temperatures.
Get your Portacool Classic and other supplies to keep your horses cool and happy at Tractor Supply Co.