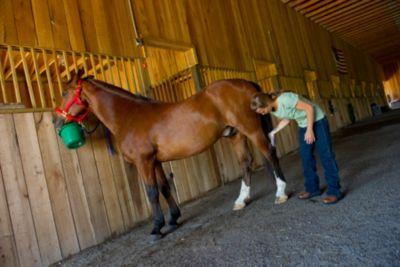 Ways to Keep Horses Cool
Riding your horse in the summer can be fun but working your horse too hard in the heat can be dangerous. Horses are susceptible to heat-related illness and riding or working your horse when it's too hot can quickly lead to dehydration and lethargy. Excessive heat can also result in diarrhea and even colic. Like humans, horses need protection from the heat to stay healthy and happy during the summer months. A few simple steps can protect your horse from heat-related illness.
Fresh Water and Electrolytes
One of the most important things horses need to stay cool during the summer is a constant supply of fresh, cool water. Water left in a trough or bucket too long can become stagnant and your horse won't want to drink it. If it seems like your horse isn't drinking enough to guard against dehydration, consider providing a salt block to encourage drinking. Adding electrolytes to the water will also help regulate important minerals and keep the horse's body in balance. Just be sure to keep an additional source of fresh water, since not all horses will drink electrolyte water and too many electrolytes can be harmful.
Provide Shade
Make sure anywhere your horse spends time outdoors has adequate shade. Trees are a good option, but the amount of shade provided changes as the sun moves. If trees are your horse's primary source of shade, check the position of the sun several times while your horse is outside. A run-in shed where your horse can go to get out of the sun is the best answer.
Mist
Along with plenty of fresh water and shade, a gentle misting of your horse's body several times a day can provide relief. Frequent misting is better for controlling body temperature than one or two dousing with a hose since heat is released as moisture is absorbed into the skin.
Adjust Turnout Times
If your horse lives primarily in a stall but has daily turnout times, adjust those times based on the temperature. Early morning turnouts and evening turnouts when the sun is low in the sky or setting are the coolest parts of the day during summer.
Circulate the Air
Using a stall or barn fan is a great way to move the air around and keep your horses cool. Barrel fans are great for barn floors and wall mount fans are perfect for stalls. Just be sure your horse cannot get to fan chords or plugs, as the temptation to chew these items could result in injury.
Tractor Supply Co has everything you need to help your horse beat the heat. From fans and galvanized watering troughs to electrolytes and fly sprays, let TSC help keep your horse comfortable all summer long.