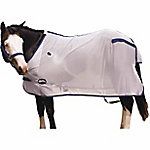 Horse Blankets: Keeping Your Horse Warm and Dry
Horse blankets are used to help regulate your horse's temperature and keep them dry during all kinds of weather. Although they are big, strong animals, horses are highly susceptible to chills when wet or not cooled down properly. Knowing when and how to blanket your horse is an important part of proper horse care. The University of Minnesota Extension recommends blanketing when:
There is no shelter during turnout times and temperatures or wind chills fall below 5 degrees Fahrenheit
There is a chance the horse will get wet in rain, ice or freezing rain
The horse's winter coat has been clipped
The horse is very young or very old
The horse is not well acclimated to the cold (has been recently moved from a warm climate to a cold one)
The horse has a body condition score of 3 or less
Once you know when and why to blanket your horse, choosing the right kind of protection is important. The following blankets are a good place to begin:
Rain Sheet
Rain sheets are waterproof, lightweight, and designed to keep horses dry and warm on rainy days. Rain sheets are good options in the spring and fall when the weather is mild but wet. When a horse's hair gets wet, it reduces their natural ability to keep warm, so rain sheets are an important part of any horse owner's blanket arsenal. Rain sheets are also a great way to keep regular horse blankets dry when the weather turns wet quickly. Simply throw a rain sheet over a regular blanket for instant waterproofing.
Turnout Sheets and Blankets
Turnout sheets and blankets are designed for freedom of movement and are used when horses go outdoors for exercise. Made of rugged materials, turnout sheets and blankets can withstand all kind of play and bad weather. Turnout sheets are the lightest type of turnout blanket and are primarily used to keep horses dry and protected from mud. Too light for much warmth and too heavy for summer temperatures, turnout sheets are the perfect option for late fall and spring when days are still wet and chilly.
Turnout blankets come in a variety of weights. The weight of the blanket refers to the amount of fill between the layers, which determines how warm the blanket will keep the horse. Lightweight turnouts have 100 grams of fill and are perfect for when the weather begins to turn cold in the winter or starts to warm up in the spring. Mid-weight turnouts have 180 to 200 grams of fill. This blanket weight is perfect for most horses throughout the winter months. Heavyweight turnout blankets have 300 to 400 grams of fill between the layers and are primarily used for clipped horses or in extreme conditions. Use heavyweight blankets with care, as they may keep some horses too warm.
Coolers
Coolers are made of moisture-wicking fabrics. These fabrics allow moisture from your horse's coat to evaporate while keeping them free from drafts, preventing the chills. Coolers are used on horses after exercise and bathing. A dewy substance forms on the surface of the cooler as the horse dries. This is the signal that it's time to take it off. For very wet horses, it may be necessary to use a second cooler until the horse is completely dry.
Unlike turnout blankets that cover the horse from shoulder to over the hindquarters, coolers cover the horse from the horse's jaw to their tail. Wool coolers tend to work better than other fabrics because of their natural moisture-wicking qualities.
Stable Blankets
Stable blankets are used indoors and are especially useful for horses whose winter coats are not yet fully developed. Stable blankets come in lightweight, mid-weight and heavyweight options. Have some of each weight available means your horse is prepared for all winter temperatures.
Quarter Sheets
Quarter sheets keep your horse's large muscles warm at the beginning and end of exercise. Used around the saddle, the quarter sheet keeps the horse's lower back and hind end warm during winter riding until muscles get used to the cold temperatures.
Scrim Sheets
Scrim sheets are used primarily with show horses and are designed to keep the horse clean while waiting to enter the ring. These blankets are made of lightweight mesh and have only a single chest buckle, so never leave your horse unattended when wearing a scrim sheet.
Neck Covers and Hoods
Neck covers and hoods are made of the same materials and in the same weight options as turnout and stable blankets. Some neck covers and hoods are designed to attach to stable and turnout blankets, while others cover the neck and head without connecting. Neck covers cover from just behind the horse's head to the shoulder where the blanket begins. Hoods cover the entire head with holes for eyes so the horse can see. The need for neck covers and hoods depends on the individual horse.
Tractor Supply Co. has everything you need to keep your horse warm and dry this winter. Our horse blankets and sheets are available in a variety of styles, colors and fabric options.