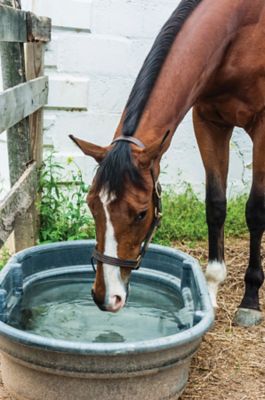 Adequate nutrition is one of the keys to a healthy horse.
Equine Nutrition
By Marcia Hathaway, PhD
Adequate nutrition is one of the keys to a healthy horse. These 6 nutrition tips will help keep your horse in topnotch condition.
Always supply unlimited quantities of clean, fresh water
Water is the most important nutrient needed by the horse. A horse should always have access to a fresh, clean supply of water maintained at a tepid temperature to encourage maximum water consumption. A 1,000-pound horse at rest in a moderate or cool environment and eating dry forage will drink anywhere from 10 to 12 gallons of water a day.
Maximize forage intake
Forages, either fresh or harvested, are the ideal source of energy. Most mature horses should be fed a minimum of 1 percent and ideally up to 1.5 percent to 2.5 percent of their body weight in forages each day. Consuming forages can provide much of the energy needs of the horse, help maintain gastrointestinal tract function and keep your horse from becoming bored.
Minimize concentrate consumption
Frequently, when more energy than can be supplied via forages is needed, cereal grains such as oats and corn are increased at the expense of the forage component. However, a mature horse should be fed no more than 0.3 percent to 0.4 percent of its body weight in cereal grains, per feeding. Alternatively, you may choose to substitute fats, which have been shown to be an excellent source of energy for horses, for a portion of the cereal grains.
Balance calcium-phosphorus ratio
Some minerals, especially the major minerals that a horse requires, may be supplied in adequate amounts via natural feedstuffs, but many trace minerals are not, so supplementation is recommended. Salt or sodium chloride should always be provided free choice through a salt or mineral block, as a horse will regulate its own intake. Particularly important is the ratio of calcium (Ca) to phosphorus (P). Because of their differing sites of absorption in the gastrointestinal tract, a minimum Ca:P ratio of 1:1 and an ideal Ca:P ratio of 2:1 is recommended.
Maintain your horse's teeth
Although your horse's teeth grow continually for 20 years, they are also constantly being worn down by chewing forages. Because the upper and lower teeth are not in complete alignment, sharp points can, over time, form on the teeth. If not filed down or "floated" by a veterinarian, those points can make chewing painful and ineffective.
Feed each horse as an individual
All horses have nutritional needs in common. They all require water, energy, protein, minerals, and vitamins. How much of each of these nutrients and in what relation to each other will vary with the age, activity level, and physiological condition of the horse. In general, an economical and nutritionally wise approach to feeding your horse would be to consult a reference such as the National Research Council's (NRC) Nutrient Requirements of Horses publication, which outlines the minimum amounts of nutrients for normal health, production and performance. Use them as a starting point to fine-tune the needs of your individual horse.