Equine Dentistry
By Dr. Jenifer Nadeau
When was the last time you had your horse's teeth checked? If you're like most horse owners, you may not be aware that all horses should receive a complete dental exam at least yearly, starting from their first year of life.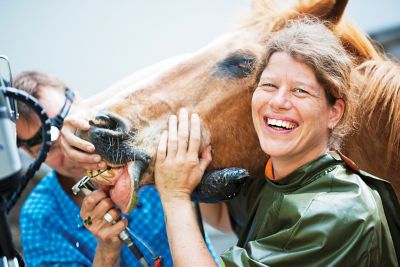 By the time most horse owners recognize that a horse is having trouble eating or is losing weight, that horse's teeth may be severely abnormal.
Equine dentists or equine veterinarians that perform dentistry have to look for different situations in the horse's mouth at different stages of the horse's life. Situations most common at each life stage include:
Birth-18 Months
Should be examined at least once a year to be evaluated for:
Defects that the horse may have been born with related to head symmetry or chewing function
Proper eruption of teeth
Incisor alignment
Sharp enamel points on teeth
Improper position and number of teeth
Abnormal wear
18 Months-4 Years
Should be examined twice a year to be evaluated for:
Eruption cysts in the gums over permanent teeth
Gingivitis (inflammation of gums)
Periodontal disease
Loose or infected caps or cap slivers (A cap is the remnant of the crown of a deciduous tooth after the roots has been resorbed.)
Sharp enamel points on the premolar, molar, and wolf teeth
Unequal eruption of permanent incisors
Wolf teeth interference with bit
Rounding of edges of front cheek teeth (first premolar) to keep bitting comfortable
4-10 Years
Should be examined once a year to be evaluated for:
Contact and balance of bite surface
Sharp enamel points on cheek teeth
Sharp edges of cheek teeth which interfere with the bit
Jaw balance
Symmetry, contact, length, and balance of incisors
10-18 Years
Should be examined once a year to be evaluated for:
Abnormalities of wear that can lead to abnormal crown wear, crown fracture, and periodontal disease
"Wave" mouth due to abnormalities of wear on central molars making teeth look wave-like
Sharp enamel points on teeth that may require extensive correction
Balance of tooth alignment
Length of canine teeth if needed
18 and Older
May need frequent oral exams and dental maintenance to keep mouth healthy.
Periodontal disease (60-80 percent incidence)
Tartar accumulation
Gingivitis
Tooth loosening
Loss of grinding surface of teeth
Abnormalities of wear
Need for geriatric diet
Sharp enamel points on teeth
Balance between upper and lower jaws