Second Chances
By Hollie Deese
Photography by Sarah Goocey
Julie Copper can't stand to see a horse end up on the auction block, not because they are sick or lame, but because their humans have let them down.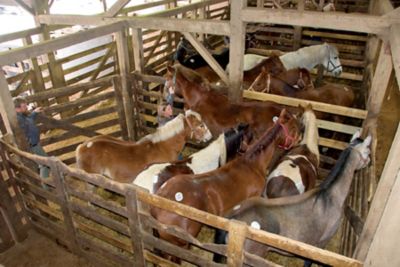 So in 2010 she launched Copper Horse Crusade, an Ohio non-profit organization in which she rescues, retrains, and rehomes as many serviceable horses as she can from the nearby Sugarcreek livestock auction, literally pulling them from the kill sale by outbidding other buyers.
"Unfortunately there are a lot of good horses that end up there through unfortunate circumstances," Julie says. "These are good horses and they can go on to find placement."
A Life Devoted
Julie grew up in Texas where her family got their first horses when she was just 6 years old, although she was smitten with the animals even before then.
"My mom would tell you that my second or third word was horse," she says. "It's just something born in the blood. I've been obsessed with horses since I was little and I've been riding from a very young age."
Julie always wanted to work with horses when she grew up, and a natural gift of placing them in proper homes emerged as a teenager.
"When I was in high school I helped someone get a horse that they later decided they didn't want anymore, so I took it and worked with the horse, and found it a home," she says.
Julie went on to earn an associate's degree in business management in 2001, then graduated Summa Cum Laude with a double major in religion and philosophy from Muskingum University in 2009.
In 2010, she began Copper Horse Crusade with a business mindset and since then has saved hundreds of horses from slaughter.
"People have the misconception that if a horse ends up at a kill sale, it's a bad horse," she says. "Maybe there's something wrong with it, or it has problems, or it's lame or dangerous. That's true to a point. But the horses that we try to focus on are the horses that have had people trouble. Somebody's getting divorced, somebody's moving or lost their job, or they are pregnant and can't keep the horse."
A Return to Society
Copper Horse Crusade functions more as a halfway house than a horse rescue, so it is important to Julie to not take on more than she can handle. Consequently, she focuses just as much on resource management and sustainability as she does on rescue and retraining.
She knows that when the number of horses exceeds the amount of resources available at a rescue, it is detrimental to all the animals and the humans who help them.
"When we go to the sale we're very diligent in doing the most good for the greatest number of horses," she says. "It's a little bit like going into a shipwreck and having a life raft, and you can only pull so many into that life raft, and you have to be really careful about not getting over extended, pulling too many in, or over reaching. But at the same time pulling as many in as you can."
Turnover time of the 60-80 horses rehabbed each year depends on the horse. They all complete a minimum of 30 days' evaluation with Julie so she can have a true understanding of the kind of temperament the horses have, and what work they might be good for.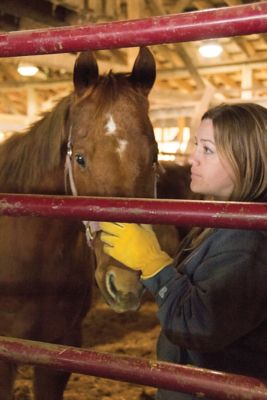 "If I don't spend at least 30 days with them, I really can't have an idea of what they are, who they are, or what they want to do. That time also gives any drugs that they might be on time to clear their system, and it gives us time to get a vet check," she says. "Some horses are only there for that 30 days because they really don't need a whole lot to be ready to go. Some horses are there for months."
Once the evaluation is over, the training begins and Julie works with the animals on job skills so they can find proper placement. Some have gone into therapeutic riding, others into search and rescue. And some find a nice place to live out their days as a farm companion.
"They're individuals," she says of her rescues. "We don't try to make them all fit the same mold. We bring them back to see what they are most suitable for, then focus training on that so they have a marketable job skill when it comes to find a home."
The cost involved in making these horses marketable while at Copper Horse Crusade is fairly substantial, including feed, hay, supplements, vet care, and more. But for Julie, it is all worth it when she can find a new use for a horse once destined for slaughter.
"It kills me to see horses that have so much going for them that there's nothing wrong with them," she says. "They can go on and be riding horses or trail horses or show horses or 4-H mounts."
"It's just such a tragic waste to see those kind of horses loading onto a semi-trailer and shipped for meat," Julie says. "I have a really hard time wrapping my head around that happening and I'm extremely driven to intervene as much as possible and say, 'Hey, this horse can go on to be something to somebody.'"