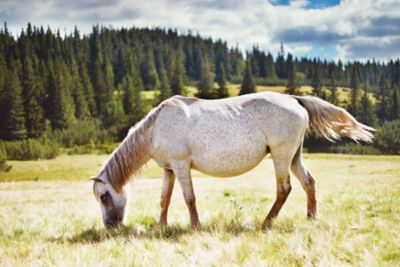 Broodmare Nutrition
By Heather Smith Thomas
The first two-thirds of a broodmare's long, 11-month pregnancy typically doesn't require much of a diet change. But her nutrition during the third trimester—when the unborn foal grows the most—can affect the health and well-being of both her and her foal.
She won't need much extra feed during the first seven to eight months while the fetus is growing slowly; if she is an "easy keeper" —meaning she easily maintains optimal body condition—on pasture or hay, she may just need a vitamin-mineral supplement or just mineralized salt.
If she's thin, feed a concentrate such as a commercial grain mix.In early gestation, it doesn't necessarily need to be formulated for broodmares, but pay attention to feeding rate. If you feed less than the minimum recommended amount, she won't be getting the proper amount of vitamins and minerals.
It gets more complicated during the last trimester. Fetal growth is exponential, increasing most rapidly in late gestation. The mare experiences very little weight gain from the foal in early pregnancy; it's mostly increase in placental tissue until about the seventh month and then the fetus grows swiftly.
Calcium and phosphorus are important for fetal bone development, along with zinc, copper, manganese, and selenium in adequate amounts. If the mare doesn't have enough in her diet, she robs these essential nutrients from her own body to supply the needs of the fetus. You don't want her to become deficient at this time, just before she starts producing milk.
In late gestation, some mares lose weight unless fed more concentrate. Most mares are unable to maintain weight on timothy hay alone; it's not energy-dense enough to support fetal growth and maintenance needs of the mare.
She may be unable to eat more volume of hay when the large uterus takes up more space in the abdomen, reducing capacity of the digestive tract.
To prevent weight loss, a more calorie-dense feed may be needed. Providing more fat such as vegetable oil mixed with grain can significantly boost calories without adding bulk. You can also provide a more energy-dense forage such as alfalfa or a high-quality alfalfa-grass mix instead of a bulkier, lower-calorie hay such as timothy.
If she's been maintaining weight on grass hay in early and mid-pregnancy you can add alfalfa during the lasttrimester, to boost calories and nutrients without having to feed so much concentrate.
If your mare tends to lose weight when lactating, feed her up to a little heavier weight before foaling, to beahead of the curve.
Mares in cold climates have higher energy requirement just to maintain body weight during winter. You don't want them losing weight, so make sure you meet energy requirements for cold temperatures as well as for fetal growth.
Protein is necessary as well, for growth and development of the fetus, placenta, and amniotic tissues; otherwise, the mare will break down her own muscle tissue to provide protein for the foal.
Green pasture usually provides adequate protein. If your mare is on hay, have it tested to determine protein content. Some grass hays are low in protein, so you could add alfalfa hay and/or a concentrate and ration balancer.
After foaling, a mare's requirements jump to produce milk. A lactating mare needs double the protein needed by the early gestational mare.
Know the nutrient levels in your feeds, and supplement the mare if needed. You can influence the health ofthe foal by making sure the mare has proper nutrition.