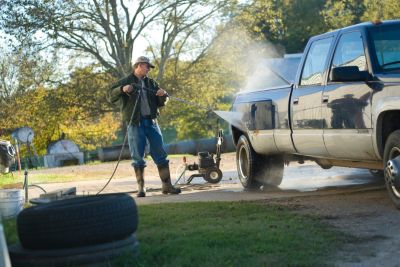 How to Choose a Pressure Washer
Pressure washers are ideal for cleaning hard surfaces that need more than just a spring scrub-down with soap and water. Some of the most popular uses for pressure washers include:
Windows
Drains
Ducts and gutters
Swimming pools
Driveways and parking lots
Outdoor furniture
Grills
Fences
Home exteriors
Decks
However, before you buy the most powerful pressure washer you can find, take time to understand how the machines are rated. Knowing a bit about how they work can help you find the most appropriate pressure washer for your home or business.
Pressure Washer Basics
Pressure washers work on the same principle as your average garden hose, only with much more power. When you turn on your outdoor faucet, the water pours out at a rate of several gallons per minute. Yet when you attach a hose with a sprayer, the water remains inside under pressure until you squeeze the trigger. While less water exits the faucet, it does so with more force than before you added the hose and sprayer.
Pressure washers use gas-powered engines or electric motors to push water through a hose at 1,000-4,000 pounds per square inch. Pounds per square inch is the way that water pressure is measured. Basically, it means the amount of pressure needed to break the bond between a surface and a stain. The stronger the stain, the more power you need to remove it.
In addition to pressure, water is also measured based on flow, or the amount of water that comes out over a certain time period. Gallons per minute, or GPM, is the standard unit used to measure water flow. Pressure washers are also rated by cleaning units (CU). Cleaning units are calculated by multiplying the PSI by the GPM. The higher the CU, the more power the pressure washer has to get the job done.
Gas or Electric
Pressure washers get their power from one of two sources: gas or electricity. Electric pressure washers are typically quieter and less expensive, and they start up with the flip of a switch. The downside of electric washers is that the cord can be a hindrance, depending on where and what you are washing. The upside to this type of pressure washer is that because it has less power, there's less risk of damaging items like grills, patio furniture, cars and other vehicles.
Gas pressure washers offer the power and mobility you need for bigger jobs, like decks, driveways, sidewalks and siding. Most have manual pull starts like lawnmowers, but some models now feature electric start switches. Finally, gas pressure washers are powerful; remember to read all manufacturer directions before use to avoid injury to yourself or others or damage to your property.
The Right Machine for the Job
One of the first things to consider when buying a pressure washer is how you plan to use it; the next is knowing how many CUs you need to get the job done. Remember, the CUs are determined by the PSI and GPM, and the higher the CU, the more work the pressure washer can do. Based on these numbers, pressure washers are typically divided into the following categories:
Light-duty: These pressure washers can be either electric or gas and come with a PSI rating of 1,300 to 2,000 at 2 GPM. These units are perfect for things like patio furniture, grills and vehicles.
Medium-duty: These gas-powered pressure washers have between 2,000 and 2,800 PSI and between 2 and 3 GPM. This makes them a good choice for lighter duty jobs as well as siding, fences and walkways.
Heavy-duty: These pressure washers live up to their name by offering 2,900 to 3,000 PSI with a 3 to 4 GPM. These gas-powered units are perfect for commercial use and can tackle the toughest jobs, including graffiti removal, paint stripping and exterior home washing.
Multi-duty: These pressure washers are considered the more versatile, since they allow you to adjust your machine's water pressure and temperature based on the job.
For most people, a light- or medium-duty pressure washer has all the power you need for jobs around the house. If you plan to go into the pressure washing business, know that purchasing a heavy-duty or multi-duty model is the way to go.
Tools and Accessories
No matter how powerful the pressure washer, the right tools and accessories can help you get the job done faster and better. Look for models that include accessories like scrub brushes, extension wands, angled wands and spray tips for those hard-to-reach places on bigger jobs. Pressure washer cleaning chemicals can also help break down dirt and grime that water alone won't budge. Make sure you choose the right chemicals for your model to ensure optimal operation.
Tractor Supply Co has a large selection of pressure washers in a variety of styles and prices. Our compact and lightweight electric models are portable and easy to use while delivering just the right amount of pressure for smaller jobs. Our gas-powered models come in medium-duty to heavy-duty with adjustable water pressure dials for accuracy. No matter how dirty the job, our pressure washers will help you get it done!