Home Builder Recycles Salvaged Materials
By John Commins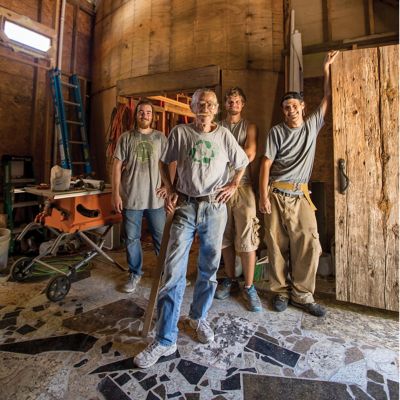 Home builder Dan Phillips of Huntsville, Texas, has an unconventional way of thinking about housing and how to build it.
For the past 17 years or so, Phillips' Phoenix Commotion has used recycled building materials and what other people consider junk to build about 30 small, eclectic homes for low-income folks at a fraction of the cost of a conventional home.
"I've got an agenda to show that the stuff we are throwing away can make magnificent houses. Most of my houses are 75-80 percent salvaged or recycled materials," says Phillips, a whip-thin man with a brushy mustache, gray ponytail, and wire-rimmed spectacles.
"I try to stay under 1,000 square feet. The smaller the better. One person doesn't need more than 240 square feet and a couple with one child doesn't need more than 400 square feet," he says. "Plus, bills are low. It's cheaper to build. It's within reach financially. They are energy efficient. They are code compliant and laughably more interesting than anything the marketplace can provide, and at below-market rates."
While Phillips' homes usually cost well below $50,000 to build, it's hard to provide an exact cost. That's because many of the materials arrive during the building process. They can take as long as 18 months to build while Phillips and his crew scrounge for materials.
"There are somethings I know I can always get," Phillips says. "I can always get windows, sinks, doors, or we can make them on site. We are aiming to build at between $30 and $50 a square foot. Sometimes it edges up to $60 or $70. But generally the index down here for conventional houses in Huntsville starts at $90 and goes up."
A Phoenix Commotion home can include floors made from wine corks and bottle caps arranged in colorful mosaics, roofs shingled with license plates, glass cookware tops and wine bottles used as peep-hole windows, and cow bones adorning door handles and stair cases.
"It's Texas," Phillips says. "Every rancher has a bone yard. You ask and they'll say, 'sure.' The only difference between ivory and bone is that ivory is illegal and bone is widely available and free. You just lean over and pick it up."
Not everything on a Phoenix Commotion home is recycled.
"I buy all the wire and pipe new," he says. "I buy the low-flush toilets because the ones that are salvage are three-gallon flushers and you can't use those anymore. I try to use metal roofing. It lasts a whole lot longer. It's a 50-75-year roof."
Phillips makes it clear that Phoenix Commotion is a business, not a charity, "although I am about as nonprofit as you can get for a for-profit company."
"I have never been in the red. I've always been in the black. I am trying to prove that you can make a reasonable living building for underserved populations using recycled materials and unskilled labor," he says. "If I were in the nonprofit sector, people would say, 'he can do that because he gets truckloads of free grant money.' Well, I am subject to the same market pressures and inspections as any other builder, and I've got to come out ahead or I can't continue doing this."
To save on costs, Phillips hires unskilled workers and pays minimum wage.
"What they get in return is a firehose of information," he says. "As soon as they get a skill set, I push them out the door to a higher-paying job, and say, 'next.' The materials are largely free. I have a low-cost labor force. That's how it works."
On his latest worksite, Phillips is cobbling together a home that looks like a cowboy boot.
"I always wanted to build a house that looked like a shoe, and a friend of mine said, 'Dan, this is Texas. Can you build a house that looks like a boot?'" Phillips says.
The design has proven to be a challenge.
"When you build round, everything changes," Phillips notes. "This house is down to about 65 percent recyclables because we've had to buy a lot of plywood to make the round contours."
There was some anxiety early on because Phillips wasn't sure he could make it work. But he learned years ago that you can't be too afraid to fail.
"I was terrified that if it didn't look like a boot I'd have to leave town," he says, "but it looks like a boot."