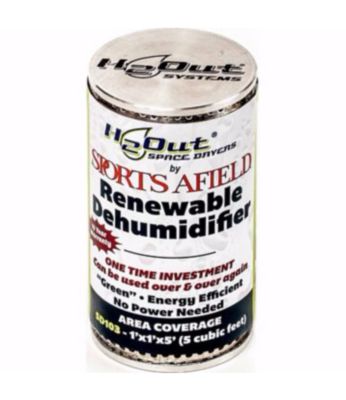 Gun Safe Accessories
A gun safe is the best way to protect your family members, friends and your firearm investment. The right gun safe provides the proper climate for keeping your guns in good working order, as well as protecting them in the event of a house fire. Having guns locked away while not in use keeps curious children out of harm's way and guns out of the hands of would-be thieves. Most gun safes come with one shelf and a rifle rack. Adding accessories like pistol holders, dehumidifiers and lighting lets you personalize your gun safe and create added storage. The following accessories are just a few of the many options to help you do just that:
Dehumidifiers
Dehumidifiers help keep the moisture levels as low as possible inside your gun safe to keep condensation from forming on your guns. This is especially true if your gun safe is located near a bathroom or in a basement. Condensation on guns can lead to rust, and rust can cause corrosion on your weapon. The Winchester Gun Safe Electronic Dehumidifier plugs into the wall and provides consistent moisture control for your Winchester Gun Safe or other comparable models. This product does require the safe owner to finish drilling out the pre-drilled hole in the back of the safe to run the dehumidifier chord to a nearby power supply.
Another non-electric option is the Cannon Safe Silica Gel Dehumidifier. The silica gel in the unit protects up to 57 cubic feet of space from moisture. When the blue granules in the product cap turn pink, simply reactivate the unit in the oven before placing back in your gun safe.
Pistol Storage
Since gun safes traditionally come with one shelf and one rifle/shotgun rack, finding a just-right place for pistols can be a problem. There are basically two options: pistol racks within the safe or a door organizer system. The Gun Storage Solutions Duelies fit snugly on any flat surface and work well on your gun safe's shelf or at the bottom. Each set Duelies holds up to four pistols. The Cannon Safe Door Panel Pistol Kit turns your safe's door into instant pistol storage with no drilling required. The pockets hold multiple handguns and are also great for jewelry and other important items.
Lighting
No gun safe would be completely functional without proper interior lighting. Good lightening inside your safe helps you find what you need safely while taking quick inventory that every weapon is in its proper place. The Stack-On LED Safe Light Kit is battery operated and directional and can be mounted with either the included mounting plate or hook and eye tape. The Rite Lite LED Puck Light with Sensor is perfect for lightening up dark corners in places where regular lights won't go, including your gun safe. Easily mounted on or underneath the gun safe shelf, this bright light is battery operated and simple to use. And when you need to light up your gun safe key entry, consider the Winchester Stealth Entry Light. This LED light comes with a magnetic base and flexible arm for hands-free bright light just where you need it.
When it comes to choosing the right gun safe and accessories, Tractor Supply Co is your one-stop gun safe shop. With over 200 sizes, gun safe types and styles, as well as many accessories, you're sure to find the right safe and supplies to meet your home-fire-arm safety needs.