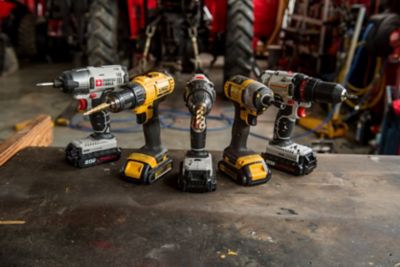 Reasons You Need a Cordless Drill
Having a cordless drill in your toolbox can make short work of many home projects, like hanging pictures, repairing furniture, attaching wall shelves and even cleaning dryer vents. Basically, any job requiring the turn of a screw can be done faster and easier with a cordless drill. A drill is essentially a tool attached to a driver, or in this case, a drill motor. Drill motors typically come with a set of attachments for both large and small jobs, and can be either corded (electric) or cordless (battery powered). When it comes to convenience, there are several advantages to choosing cordless over corded.
Mobility
One of the obvious benefits to a cordless drill vs. a corded drill is mobility. Whereas corded drills can go only as far as your extension cord allows, cordless drills can go anywhere. And models with adjustable heads can go places once reserved for only the smallest of screwdrivers. Cordless drills are typically lighter weight than their corded cousins and are easy to drop in a toolbox or bucket for easy transport to your job sight. As mentioned, cordless drills also come in a variety of sizes with rotating heads, so there's no need to pull out the big drill for smaller jobs, making mobility even better.
Power
In the early days of cordless drills, there was no question as to which type of drill had more power. The fact that corded drills had a steady supply of 110 volts of electricity made them the obvious choice for big jobs. But just because cordless drills are limited to 12, 18 or 12 volts depending on the size of the battery doesn't mean you have to sacrifice power for mobility. In fact, today's cordless drill motors can match corded models for speed and torque, which is a better measure of a drill's overall power. Basically, it's not about how much power is flowing into the drill as much as how much is available to get the job done. That's why it's important to choose a drill based on rotations per minute and the inch-pound of torque rather than its maximum power output (watts).
Battery Usage
One of the biggest benefits to choosing a cordless drill is the ways you can use the battery. Batteries for cordless drills can also be used to power your skill saw, impact driver, sander and more. Choosing tools that can share the same battery saves money, space and time, especially when you're just beginning to build your tool arsenal. Letting batteries sit for long periods of time without being used can reduce their power output and eventually cause them to die. That's why choosing a cordless drill that can share its batteries with other tools means the batteries will get more use and last longer.
Choosing the Right Cordless Drill
When it comes to choosing the right cordless drill for your toolbox, there are a few things to consider. Make sure the drill you choose has a clutch. A clutch makes a clicking noise and disengages the drive shaft when a certain level of resistance is reached. This prevents overdriving the screw and stripping the head while protecting the motor. Make sure the drill has a forward and reverse drive and has a chuck that can accommodate up to a 3/8-inch bit. Some cordless drills can also take up to a ½-inch bit. The more bits you can fit in your cordless drill, the better the tool for a variety of jobs. Also note how the drill feels in your hand, its grip and the weight of the tool. Choosing a drill with an extra battery will save you money over time.
No matter the project, Tractor Supply Co. has the right cordless drill for the job. We also carry bits, batteries, nut setters, hole saws and just about anything you'll need to complete your cordless drill kit.