Cleaning Oil Stains off Concrete
By Taylor Flanery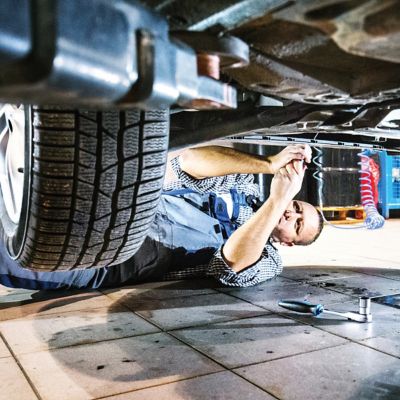 Parking your automobiles inside your garage has many advantages, for both you and your car. However, when your car has an oil leak, the stains can cause an eyesore on your garage floors.
Garage floors are typically made of concrete, and concrete is porous. That means when these drips and leaks occur they are absorbed into the concrete, leaving behind unsightly stains which are hard — but not impossible — to remove.
The quicker you deal with the oil and grease drips causing a stain, the better result you'll see when cleaning it up. When you notice drips or leaks occurring, first stop the source of the leak, and then deal with any unabsorbed oil or grease on the garage floor, so less oil is absorbed into the concrete itself.
You can remove unabsorbed oil on the surface of your concrete floor by pouring an absorbent onto it, such as clay-based cat litter or a product specifically designed to absorb automotive fluids.
Simply spread the absorbent over the oil leak and let the product do its work. Then, follow the instructions on the packaging for proper disposal of the used absorbent.
Once you've absorbed any standing oil or grease, and have removed the absorbent from the floor, it's time to tackle the stains left behind in the concrete.
First, gather your cleaning supplies. You can use either a commercially available cleaner and degreaser, or a home remedy, dishwasher detergent powder, as your cleaning product. If you purchase a cleaner and degreaser, make sure you do not get a product that also etches your concrete floor, unless you plan to seal it afterward. The rest of your supplies consist of a stiff brush for scrubbing the stained surface, and water for rinsing.
Once your supplies are gathered it's time to clean up your stained floors. If you're using a commercial product, follow the instructions for that cleaner and degreaser, but generally you will apply the cleaner and degreaser, scrub the stains with the stiff brush, and then let the solution sit for at least 15 minutes before rinsing.
If you use dishwasher detergent powder, sprinkle the power onto the stained area and let it sit for approximately 45 minutes, and then pour a small amount of boiling water onto the powder and scrub with the stiff brush. Then, rinse thoroughly.
Using either method you may need to repeat the applications, depending on how stubborn the stains are and how much and hard you scrub.
Prevent Staining
While these instructions will remove the oil and grease stains, in most cases, from your garage floor, once you do this cleanup, you probably won't want to repeat the process again, so preventing additional stains is your best protection.
Keep your automobiles well maintained to prevent as many leaks and drips as possible. However, accidents do happen, so you may also want to add a sealer or top coating to your garage floor. This will keep the concrete from absorbing these oily substances as easily.
Make sure to use a sealer designed for garage floors, so it'll withstand the heat from hot tires without being removed.
Keeping your garage floors looking their best may take a bit of work, but it's well worth the effort to keep unsightly stains from marring the look of your well-maintained garage.
Learn more cleaning techniques at Taylor Flanery's blog, "Stain Removal 101: A Busy Mom's Guide to Cleaning, Laundry & Stains at ww.stain-removal-101.com.