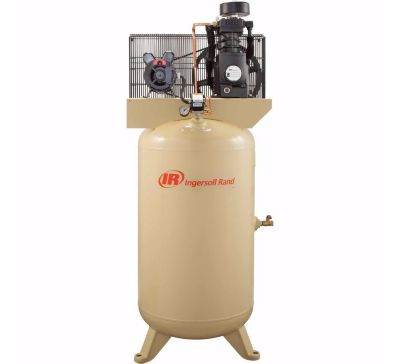 Air Compressors: Things to Consider
An air compressor powers tools with the force of compressed air. Paint sprayers, drill motors, nail guns and sanders are tools that can be used with an air compressor. Air compressors are great for home improvement projects because they increase the speed and power of ordinary tools. Air compressors usually come with a variety of accessory options, from tire inflators to staple guns. But choosing the right air compressor can be tricky. When so much power is available, it's easy to get a compressor that's actually too big for the job. Knowing how and where you plan on using your compressor can help.
Types of Air Compressors
Stationary compressors are the kind you might see in a garage or workshop. These models have large storage tanks that operate at a high horsepower. Their vertical design allows them a small profile, so they don't take up much space. Stationary compressors are designed for big jobs that happen within the garage or workshop.
Portable air compressors are the kinds used most often for the home do-it-yourselfer. Designed with smaller tanks and handles for easy transport, portable compressors can be easily moved to wherever the work is. These compressors come in four types:
Pancake- Features round, flat storage tanks on the bottom of the unit.
Hot Dog- Has a horizontal design with one cylindrical tank.
Twin-stack- Features two horizontal, cylinder-style tanks. The stacked design takes up less space without sacrificing power.
Wheelbarrow- Has two cylinder-style tanks with a wheel and handles.
Inflators are a type of compressor that has no storage tanks. They run constantly while in use and are perfect for blowing up air mattresses, tubes and inflating tires. Portable air compressors are the right size for just about any home improvement or small farm project and can run most nail guns and other air-powered tools.
Compressor Tools
Air power tools have specific requirements for compressed air. So choosing an air compressor means knowing what tools you plan on using. Along with paint sprayers and nail guns, some additional tools used with air compressors include:
Ratchets
Impact wrenches
Air hammers
Chisels
Rotary tools
Grinders
Choose the right compressor by determining which of your tools needs the highest CFM (cubic feet per minute) at the highest PSI (pounds per square inch). Add 50 percent to the CFM for added safety and you've got the right compressor for all of your air-powered tools.
Air Compressor Safety
Compressors are fueled by either gasoline or electricity. Although gas-powered options tend to have more power, electric models are quieter and work in any area with a 120-volt or larger power supply. Read the manufacturer's directions before choosing an extension cord for your portable air compressor. Never use an electric air compressor on a wet or damp surface, and never use a gasoline-powered compressor indoors or in an unventilated area. All air hoses must meet the air compressor specifications as well as the specifications of the tools you plan to use.
Tractor Supply Co has a complete line of both stationary and portable air compressors, tools and accessories. Air hose reels and extra tanks provide easy storage and more available power, and we also carry parts for compressor repair. Choosing the right air compressor and tools can help you get your next project done safer, faster and better than ever.