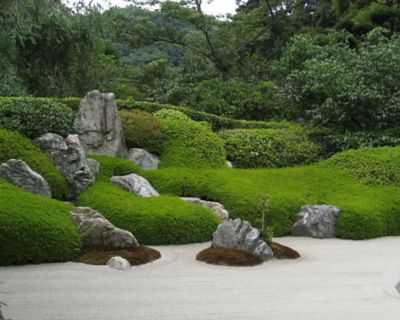 How to Build a Zen Garden
Benjamin Kilbride, Editorial Assistant at The Old Farmer's Almanac
Create a small Zen garden in your backyard to reduce stress and increase focus!
What Is a Zen Garden?
A Zen garden is a precisely designed outdoor space that is meant to calm the mind and be a place of meditation and reflection. Naturalness, simplicity, and austerity are the main principles of a Zen garden—every stone and plant is placed with care and purpose.
Why Build One?
In the age of high-speed Internet and attention-demanding media, it's often hard to find a time or place to simply sit and think. Zen gardens are perfect for disconnecting from the world and reconnecting with nature. If you have one in your backyard, it's all the easier to regularly let the mind relax. Also, Zen gardens help to make your backyard look beautiful.
The Basic Elements
Zen gardens can differ based on the primary materials used, such as stones, sand, or plants. The materials you decide to use will greatly affect your final garden outcome!
Planning the Garden
Rocks and Stones
Line the edges of paths and around trees and bushes with rocks and stones. Avoid moving massive rocks or anything bigger than you can comfortably lift, but if there are already a few boulders in your backyard, work them into the design. Use a wheelbarrow to move large stones or piles of smaller ones. Try balancing stones on each other to make rock totes.
Sand
A very fine gravel or coarse-grade sand is ideal for a Zen garden. Spread a 2- to 3-inch layer of it over bare ground, surrounding boulders and large rocks and trees. When the garden is finished, use a metal rake or a stick to etch delicate patterns and lines in the sand. Draw circles, arches, and swirls in the sand whenever you need to calm your mind. Smooth out the designs before beginning again.
Moss
Suitable only if there is a source of water nearby (e.g., stream, river, pond) or if the climate is humid, moss adds a wonderful soft green look to a Zen garden. Collect some from the woods nearby by gently pulling up the edges of clumps and carefully moving them to your garden. You can also often get moss from your local nursery or plant store. Spread moss over rocks or on logs.
Water
If there is a small stream or river on your property, use it to your advantage and incorporate it into your Zen garden design. If there is no stream nearby, consider making a miniature one of your own by using an old stock tank, a hose, and a low-power water pump. Dig a hole for the tank at the bottom of a gradual hill—dig deep enough so that the lip of the tank is flush with the ground. Place the water pump in the stock tank. Run the hose up the hill to a spot where water flowing downhill from it will go back into the tank. Fill the tank with water and turn on the pump!
A Place to Rest
While creating your Zen garden, don't forget to make a spot where you can sit and enjoy your surroundings. Some options include a stone or wooden bench, a stump, a boulder, or simply a soft patch of grass or moss. Pick what is most comfortable for you.