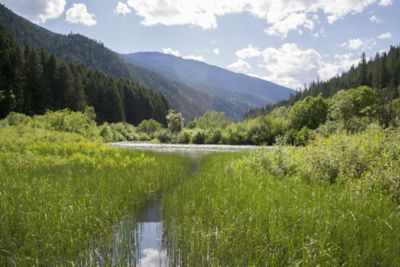 A Brief Explanation of Gardening Weather Zones and Microclimates
Benjamin Kilbride, Editorial Assistant at The Old Farmer's Almanac
Learn how weather zones and microclimates can affect plant growth in your garden.
What Are Weather Zones?
Weather zones are large geographical areas that support a specific range of plant life based on normal temperature highs and lows, length of the growing season, elevation, wind, the influence of the ocean or large bodies of water, and mountains, hills, and valleys. Weather zones help to determine where plants can be grown successfully.
What Are Microclimates?
Microclimates are smaller areas within larger weather zones that have their own unique climate conditions. For example, a garden at the bottom of a hill in early spring might experience a frost one night, while a garden at the top of the hill might experience no frost.
Why Are Microclimates Important to Gardening?
Understanding how the microclimates in and around your property function can help you to decide where to plant—and what to plant—in your garden. Even if a plant is rated as hardy in a specific weather zone, it might not be hardy in the microclimate in which it is planted.
Four Common Creators of Microclimates
Soil
The composition of a soil can affect microclimates because of how much water it can hold: The humidity and temperature of the air above the soil can change based on the amount of water retained below. Also, bare soil will reflect more heat and light than soil covered with vegetation.
Topography
Microclimates are influenced by topographical features such as the slope of hills and the direction in which those slopes face. The steeper the incline of a hill, the faster wind will move uphill, removing moisture from the air and soil and posing a danger for young or weak-stemmed plants. When it comes to direction, south-facing slopes receive more sunlight than north-facing ones.
Elevation is also an important factor because cool air flows downhill, creating pools or pockets of cold air at the bottom of hills.
Vegetation
Vegetation affects microclimates by covering the ground. It acts as a windbreak, regulates the temperature, and reduces moisture evaporation for the soil.
Water
Bodies of water, such as lakes, ponds, and streams, affect microclimates by gaining and losing heat more slowly than nearby land. Also, bodies of water create moisture-rich environments because they have a higher rate of evaporation.