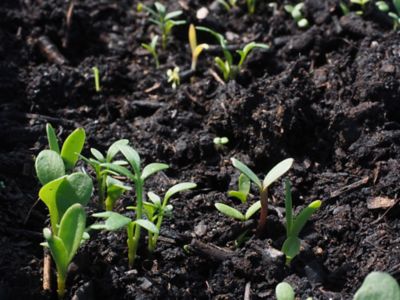 4 Easy Ways to Improve Water Retention in Your Garden
by The Old Farmer's Almanac staff
There's no risk of overwatering when your garden soil is like a sponge. Use these tips to improve water retention and create a thriving garden you can feed your family from all year long.
Mix In Compost
Adding compost to your garden is the best way to retain more water. The more compost that is mixed into your garden, the more water the soil will retain. Simply put: Get your hands on as much rich compost as you can!
Till your soil until it is easy to work. Spread a 3- to 4-inch layer of compost on top. Mix the compost into the top 8 inches of soil.
Spread Mulch
A layer of mulch helps to keep the soil under it cool and damp. The mulch absorbs and retains moisture from rain and any water you apply and prevents water from evaporating as quickly.
After plants have begun to grow, spread a 1- to 2-inch layer of mulch over your garden soil. Spread the mulch around plants, right up to the base of their stems.
Plant Densely
Plant vegetables close together to shade the soil. The shade both reduces the number of weeds that come up and helps to keep moisture in the soil by limiting the amount of water that evaporates.
Ground-spreading vegetables also help to retain water in the soil; the large leaves on squashes, pumpkins, and zucchini naturally shade the soil. Pair them with climbing vegetables that can take advantage of the moist, cool soil but don't need much ground space. These would include pole beans, snap peas, snow peas, and cucumbers.
Weed Regularly
Weeds and other unwanted plants compete with your vegetables and herbs for water. Dig or pull up weeds as often as you can, as soon as there are any signs of new unwanted plants growing.
Enjoy This Simple and Fun Recipe
While relaxing in the sun during the longest days of summer, cool off with a fresh salad!
Fresh Vegetable Salad
INGREDIENTS
2 cups water (approximately)
juice of 1 lime
1/2 pound sunchokes (Jerusalem artichokes)
1 cucumber
1 pound radishes (the more varieties and colors, the better)
2 carrots
2 to 3 slices day-old sourdough bread, cut into small cubes
1 cup cooked cannelini beans
1/4 cup chopped fresh mint
3 cups mixed spring salad greens (such as mustard and arugula)
Harissa Dressing (recipe below)
1 cup crumbled feta
INSTRUCTIONS
In a large bowl, combine 2 cups water with lime juice. Carefully peel sunchokes and slice thinly. Immerse them in lime juice/water mixture and set aside. Peel and halve cucumber. Remove seeds and slice thinly on the bias. Slice radishes thinly. Peel carrots and slice thinly. Remove sunchokes from water and pat dry.
In a separate large bowl, combine sliced vegetables, bread cubes, beans, and chopped mint. On a large platter or on each of six serving plates, arrange a layer of salad greens. Add Harissa Dressing to vegetables and toss well. Spoon over greens and sprinkle with feta.
Harissa Dressing
INGREDIENTS
1 preserved lemon (or juice and zest of 1/2 lemon)
1/2 cup harissa (Tunisian hot sauce, or substitute nuoc cham, Vietnamese garlic fish sauce)
2 tablespoons minced shallots
2 tablespoons malt vinegar
1/4 cup walnut oil
1/2 cup grapeseed oil
1/2 teaspoon kosher or sea salt
INSTRUCTIONS
In a blender or food processor, purée lemon, harissa, shallots, and vinegar. With the motor running, slowly add walnut oil, then grapeseed oil. Season to taste with salt.
Yield: Makes 6 servings.