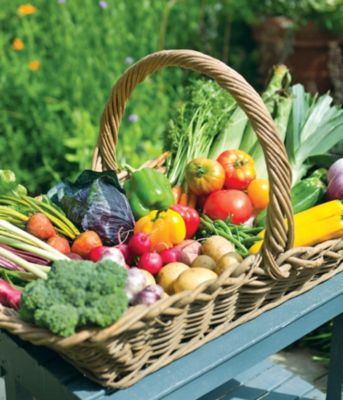 The Three Sisters Companion Garden
by The Old Farmer's Almanac staff
Grow a team of self-supporting vegetables!
Who Are the Three Sisters?
This centuries-old garden group is actually a trio of vegetables—corn, pole beans, and squash—that have a symbiotic (companionable) relationship: When planted together, the Sisters help each other to thrive, provide you with a balanced diet, and keep your garden's soil healthy and fertile.
• Corn provides height and support for the pole beans.
• Pole beans absorb nitrogen in the air to feed back into the soil for the other two plants.
• Squash has prickly stems that protect against thieving predators like raccoons, and its large leaves keep the soil shaded, moist, and weed free. (Don't like squash? Plant pumpkins instead and you will achieve the same effect.)
How to Grow the Sisters
The Sisters require full sun, good soil, and regular watering. After the danger of frost has passed, make a mound ofsoil about 1 foot high and 3 to 4 feet wide. In the center, plant six kernels of corn 12 inches apart in a circle with a diameter of 2 feet. When the corn is about 5 inches tall, evenly plant four beans around each corn stalk. After about a week, plant six squash seeds evenly around the edge of the mound. Weed around the corn and beans until the squash has covered the ground.
Make Multiple Mounds
Prepare multiple mounds 3 to 4 feet apart in groups of nine. Plant as directed, but use onlysix squash seeds evenly spread between the nine mounds. You will not need as many squash plants because they are a sprawling vegetable, able to cover a large area of soil.
History and Lore of the Three Sisters
Native American Iroquois had been growing the Three Sisters centuries before European settlers came to North America in the 1600s.
In the Iroquois world creation myth, "Sky Woman" fell through a hole in the sky onto the back of a giant turtle covered in soil. Sky Woman gave birth to a daughter, who later died and was buried. Out of her grave grew the three sacred plants later named the "Three Sisters." This gift sustained the Iroquois people physically and spiritually, and the trio was always grown together, eaten together, and celebrated together.
Three Recipes from the Harvest:
Vermont Butternut Squash Soup
INGREDIENTS
3 tablespoons butter
2 tablespoons chopped onion
1 medium carrot, peeled and chopped
3 tablespoons all-purpose flour
4 cups warm chicken stock
2 pounds butternut squash, peeled, seeded, and cut into large cubes
1 clove garlic
1 tablespoon dried parsley
1-1/2 cups milk
1/2 cup light cream
2 tablespoons maple syrup, or to taste
chopped fresh parsley, for garnish
freshly ground black pepper, for garnish
INSTRUCTIONS
In a large stockpot, melt the butter over medium-low heat. Add the onion and carrot and cook for about 5 minutes, or until the onion is tender. Sprinkle the vegetables with the flour and, stirring constantly, continue cooking for 3 minutes. Remove the pot from the heat and add the chicken stock. Add the squash, garlic, and parsley and simmer, covered, for 45 minutes. Set aside to cool for 10 minutes. In a blender or food processor, purée the mixture until smooth, in batches. Return the soup to the pot; add the milk, cream, and syrup; stir to incorporate; and heat through. Garnish with parsley and black pepper.
MAKE AHEAD
This soup can be prepared up to the purée stage, covered, and refrigerated for 4 days or frozen in an airtight container for 1 month. To use: For each serving, combine 1/2 cup of thawed purée, 2 tablespoons milk, 2 teaspoons cream, and 1 teaspoon maple syrup, then heat through.
Yield: Makes 12 servings.
Green Bean Salad
INGREDIENTS
1 pound green beans
1/4 pound bacon
1 shallot, minced
2 tablespoons white-wine vinegar
1 tablespoon chopped fresh tarragon
1 teaspoon sugar
salt and freshly ground black pepper, to taste
1 tablespoon chopped fresh chives
INSTRUCTIONS
In a pot of boiling, salted water, cook beans for 6 to 8 minutes, or until crisp-tender. Drain and rinse under cold running water. Put beans on paper towels and pat dry. Place in a shallow serving dish.
Cook bacon until crisp, then remove to paper towels. Reserve 2 tablespoons of bacon drippings.
Add shallots to bacon drippings and stir over medium heat until tender. Add vinegar, tarragon, sugar, salt, and pepper. Remove from heat, stir in chives, and pour over green beans. Crumble bacon over beans and serve at room temperature.
Yield: Makes 4 servings.
Corn Salad
INGREDIENTS
2 bell peppers, 1 red and 1 green, cored
1/3 cup plus 2 tablespoons corn oil
4 large ears corn, cooked
2 cups small red new potatoes, cooked
3 tablespoons finely chopped red onion
2 teaspoons minced fresh tarragon
2 tablespoons minced fresh parsley
2 teaspoons Dijon-style mustard
1 teaspoon soy sauce
1 tablespoon tarragon vinegar
salt and pepper, to taste
INSTRUCTIONS
Cut peppers into thin strips. In a medium-size skillet, sauté over high heat in 2 tablespoons of oil until peppers are browned in spots. Set aside. Cut corn from cob and dice potatoes fairly small. Mix remaining 1/3 cup of oil with onion, herbs, mustard, soy sauce, and vinegar. Stir in peppers, then add remaining vegetables and season to taste. Stir well and chill in a tightly covered 2-quart bowl for at least 2 hours, so that flavors have a chance to blend. This salad will keep well in the refrigerator for 2 to 3 days.
Yield: Makes 8 servings.