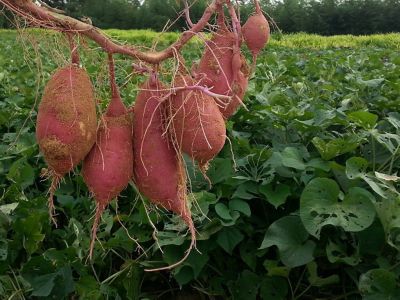 Sweet Potatoes: From Seedlings to Supper
Benjamin Kilbride, Editorial Assistant at The Old Farmer's Almanac
Learn how to grow a bountiful harvest of sweet potatoes in your garden.
Why Grow Sweet Potatoes?
Unlike the common potato, sweet potatoes (Ipomoea batatas) are a great source of vitamins A, B6, and C, as well as potassium and fiber. Sweet potatoes also have antioxidant and anti-inflammatory properties, meaning that they're healthy for the heart and for those with rheumatoid arthritis. Although they are healthful, you should avoid eating sweet potatoes for more than two or three meals a week.
Where Can Sweet Potatoes Be Grown?
Sweet potatoes can be grown anywhere that experiences a growing season with 100 to 150 frost-free days. Temperatures between 75° and 95°F are ideal, but sweet potatoes will grow even in 60°F weather, although they may end up being smaller.
How to Grow Sweet Potatoes
Planting
Purchase sweet potato slips (seedlings) from a local nursery 2 to 3 weeks after the last average frost date. Plant the slips in mounded rows 12 inches apart in well-draining soil that receives full sun.
Care
Water sweet potatoes regularly with 1 inch of water per week. Avoid overwatering, as sweet potatoes will rot if the soil is too wet. Spread a thin layer of straw around the base of the plants to help to reduce water evaporation. To save space, train sweet potato shoots up trellises, posts, or wire.
Harvest
Harvest when the vines and leaves have begun to yellow and die, about 100 to 150 days after planting. Carefully dig around the sweet potatoes and loosen the soil surrounding them, gently pulling the tubers out by hand. Sweet potatoes are thin-skinned and easily damaged. They will remain fresh for up to 2 weeks in a container in the refrigerator or 4 to 6 months if frozen, canned, or dried.
Recipes From the Harvest
Enjoy these delicious recipes made from your homegrown sweet potatoes with friends and family.
Chai-Spiced Baked Sweet Potatoes
INGREDIENTS
3 pounds sweet potatoes, peeled and cut into 1-1/2-inch chunks
4 tablespoons (1/2 stick) salted butter, plus extra for dish
1/3 cup brewed strong black chai tea
1/2 cup firmly packed light-brown sugar
1 teaspoon each ground cinnamon, cardamom, ginger, and kosher or sea salt
1/2 teaspoon freshly ground black pepper
1/3 cup toasted pecan halves
INSTRUCTIONS
Preheat oven to 375°F. Butter a 13x9-inch baking dish and arrange sweet potatoes in an even layer. Set aside.
In a saucepan over medium-high heat, melt butter with tea, brown sugar, spices, and salt. Bring to a simmer, whisking often, and cook until mixture begins to foam. Pour syrup evenly over potatoes and cover pan with foil. Bake for 35 minutes, then remove foil, stir gently, and cook until potatoes are tender and glaze is very thick, another 8 to 10 minutes. Sprinkle with toasted pecans and serve.
Yield: Makes 8 to 10 servings.
Sweet Potato Chips
INGREDIENTS
4 large sweet potatoes
1/2 cup (1 stick) melted butter
salt and freshly ground black pepper, to taste
INSTRUCTIONS
Scrub the potatoes clean and cut them into 1/4-inch-thick slices. Dip the slices in melted butter and arrange them on large baking sheets. Sprinkle salt and pepper over the slices and place in oven. Bake for 25 to 30 minutes at 350°F, flipping occasionally until they are nicely browned.
Yield: Makes 4 to 6 servings.