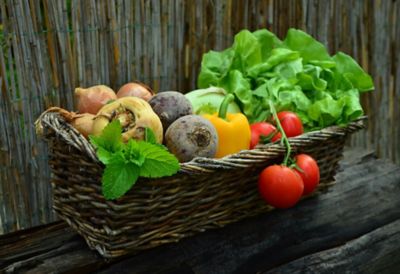 A Guide to Succession Planting
Benjamin Kilbride, Editorial Assistant at The Old Farmer's Almanac
Replant your garden to replace early harvest crops for a continuous supply of fresh vegetables all summer long.
What Is Succession Planting?
Succession planting is the practice of sowing new plants before or as a crop is harvested. The overlapping effect of planting the same vegetables again, sometimes as few as 10 days apart, is like singing a song with a group of people in a round: Every subsequent voice adds volume and strength to the song, just as every new planting adds to the amount of food grown overall.
What Are the Benefits of Succession Planting?
The process of succession planting maximizes garden space, produces higher yields, and ensures that there are ripe vegetables throughout the entire growing season.
Choose Quick-Maturing Varieties
Maximize your harvest by picking quick-maturing varieties for your garden. A short number of growing days allows for multiple plantings of each vegetable, which produce larger yields overall. Depending on the kind of vegetable, the variety, and the climate, it's possible to plant up to eight times in one season.
Be aware of temperature tolerances when deciding what to plant. Some vegetables do better in the cool of spring or in greenhouses, while others flourish in the heat of summer. Here are a few quick-maturing varieties from which to choose:
Spring:
• 'Ruby Queen' beets (55 days)
• 'Vates' kale (56 days)
• 'Golden Acre' cabbages (65 days)
• 'Sugar Ann' peas (56 days)
• 'Japanese White Egg' eggplants (65 days)
• 'Tendersweet' carrots (60 days)
Early Summer:
• 'Sweet Success' cucumbers (50 days)
• 'Papaya Pear' summer squashes (42 days)
• 'Siletz' tomatoes (57 days)
• 'Fooled You' peppers (65 days)
• 'Fordhook Giant' swiss chard (25 to 50 days)
• 'Evergreen Hardy White' green onions (65 days)
Late Summer and Fall:
• 'Razzle Dazzle' spinach (30 days)
• 'Lollo Rosso' lettuce (53 days)
• 'French Breakfast' radishes (23 days)
Plan Ahead for Planting Dates
It can be difficult to keep up with all of the different planting dates throughout the spring and summer. Use a gardening notebook or calendar to record the dates when each variety is planted and develop a schedule for future plantings to help to stay ahead. When managed thoughtfully, succession planting can be used effectively to provide most of your own fresh vegetables during the summer.