Squash Varieties
By Erin McIntyre
Squashes earn their space in the garden, both by producing abundantly throughout the summer and also by storing well, tucked away until they can be made into savory dishes long after the snow flies.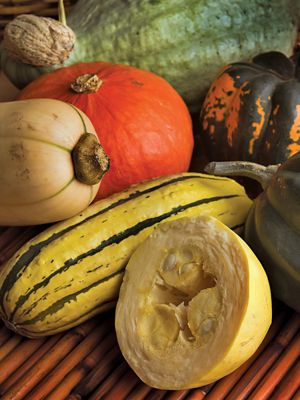 Gardeners have their pick of dozens of different kinds of squashes — patty pans, crooknecks, acorn squash, even warty pumpkins. How does one choose the perfect squash to plant in the garden? Well, it depends on what you're looking for, says Carol O'Meara, a self-described squash enthusiast and extension agent for Colorado State University.
Looking for fast results and for a go-to producer that will keep you busy all summer? That's what summer squash is all about. Are you patient and willing to grow a vining plant that takes months to produce a long-lasting squash ready in the fall? Then it's winter squash you want. Many gardeners opt to plant both, to satisfy a desire for delicious squash through the heat of summer and a reward that lasts after the garden frosts.
Both winter and summer squashes are planted in the spring, though summer squashes — such as zucchini — are eaten throughout the summer. Winter squashes are eaten in fall and winter, after they fully mature.
"Summer squash is typically eaten as an immature fruit," O'Meara says. "The skin is still really buttery soft and there is little to no seed developing in the fruit."
Because gardeners are continually picking these fruits, it encourages the plant to produce more, she explains, leading to summer squashes' reputation for yielding bumper crops.
Winter squashes, on the other hand, spend all season maturing. They have a rind that hardens to protect the seeds within, nestled in flesh meant to nurture the next generation of plants. While summer squashes can produce edible fruits within 60 days of planting, winter squashes can take anywhere from 90 to 120 days to harvest.
"We want that seed cavity to mature, we want that rind to harden and most importantly, we want all that flesh that's really meant to support the seeds themselves," O'Meara explains. "We want that for our own purposes because it's the sweet flesh we're after."
Most winter squashes benefit from being cured for a few weeks after harvest, and will have sweeter flesh as a result. However, O'Meara cautions that rule does not apply to acorn squash, which becomes stringy and should be eaten soon after harvest.
While summer squashes are perfect for grilling, casseroles, and sautéing, winter squashes have dense, vitamin-rich flesh perfect for blending into soups and roasting. They serve different purposes, O'Meara says.
"I love that immediacy in the summer — the summer squashes lend themselves to so many kinds of cooking," she says.
But she associates more of an emotional connection to winter squashes. "Winter squash is Thanksgiving to me," she says.
Whether you're looking for summer or winter squash to plant in your garden, these varieties will perform well in most zones.
Butterscotch Butternut Squash
This winter squash is "absolutely phenomenal," O'Meara says, and grows robustly but in a more compact habit than traditional butternut squashes.
"It still vines, yes, but it's not one of those that's taking over the back 40," she says.
The plant produces petite squashes, perfect for two people to enjoy.
Spaghetti Squash
These are incredibly versatile and a good staple for folks who are limiting carbohydrates in their diets, because the flesh mimics the texture of pasta, O'Meara notes.
"There are so many recipes out there you can do with a spaghetti squash," she says. "Chicken Parmesan baked into spaghetti squash halves is delicious and it's a great weeknight dinner."
Kabocha Squash
This earthy winter squash has a nutty flavor profile, and it's not sweet like some other winter squashes.
"It's a Japanese pumpkin, essentially, and it is so incredible in soups or in risottos," recommends O'Meara.
Delicata Squash
O'Meara describes this torpedo-shaped squash as a "crowd pleaser" with incredible sweetness that roasts well.
"People who say they don't like squash like Delicata," she says.
Hubbard Squash
These excellent keepers will store up to six months, and have a reputation for their impressive size.
"They're essentially the size of a mid-sized hippo," O'Meara says, noting that some can be in the 20-pound range. Hubbard squash is useful for preserving, but there are miniature varieties that are well suited for those without freezer space.
Zucchini
O'Meara was impressed by two varieties she grew in 2015 — the Costata Romanesco and Bossa Nova zucchinis. Costata Romanesco has distinctive ribbing on its green fruits and features a nutty flavor. Bossa Nova produces dark and light green mottled fruits, which have a sweet, mild taste.