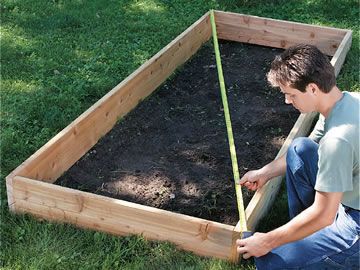 Square-Foot Gardening
For a hearty yield with minimal work, plant a square-foot garden.
Contributed by The Old Farmer's Almanac Staff
Just what is square-foot gardening? A square-foot garden is essentially a full vegetable garden that has been downsized to fit into a "box," often measuring 4x4 feet, which is divided into a grid pattern for planting.
Benefits of Square-Foot Gardening
It's easy! This method allows you to plan, build, and maintain a garden all by yourself—it's a true DIY project.
It's economical—the amount of food you will harvest would cost more if you were to buy it in a grocery store or at a farmers' market.
All you really need is 16

square

feet.
You can grow a variety of veggies efficiently; the compact space ensures that you plant wisely so no room is wasted.
Because crops are densely planted, there is very little weeding to do.
It's less physically demanding, given the small amount of space being cultivated.
How to Build a Square-Foot Garden in 5 Steps
Choose a sunny, open location where your plants will receive 8 to 10 hours of light per day.
Map out your bed(s), always thinking in terms of 4x4-foot squares. If you're planning on building more than one bed, include aisles in your layout so that you can easily reach the plants in each bed.
Use four 4-foot lengths of 2x6-foot lumber to form each box, securing the four corners with deck screws.
Fill the box with a mixture of 1/3 compost, 1/3 peat moss, and 1/3 coarse-

grade vermiculite

for nutrient-rich soil that will drain well.
Using a spool of nylon rope, make a grid of 16 one-foot squares, securing the lines to the boards with eye hooks.
A Planting Plan
It might be helpful to think of your garden as being divided into four planting areas. Here is a sample planting plan:
Area 1: Low-Growing Herbs (sage, thyme, and oregano)
Area 2: Tall Herbs (rosemary, basil, and dill)
Area 3: Salad Crops (lettuce, arugula, and cucumbers)
Area 4: Nightshades (tomatoes and peppers)
Planting
When you are ready to plant, read your seed packets to find out how much space mature plants will need—this will tell you how many plants you can grow in one square. For example, if plants should be spaced 12 inches apart, you'll plant one per square; if 6-inch spacing is required, you can plant four in a square, and so on.
Sow your seeds into shallow holes and cover with a light layer of soil—be sure not to pack the soil down too firmly; a gentle tamping down with your hand will keep the seeds in place while still allowing water and oxygen to reach them.
Water them well and plan to do so regularly throughout the growing season.
Harvesting
As your garden matures, begin harvesting on a continual basis. Once you've pulled a plant out, remove any remaining roots and foliage debris, add new compost, and plant more seed(s) in that square—this ensures a long growing season.
There you have it—one of the easiest ways to have fresh produce at your fingertips!