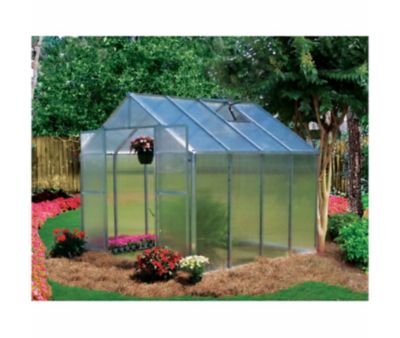 Selecting a Greenhouse
Growing fresh vegetables and herbs year-round means tasty produce and flavorful recipes no matter the season. However, choosing the right greenhouse to get the job done requires some basic knowledge of the things you want to grow, optimum temperatures for strong robust plants, and an understanding of the amount of space you'll need.
Growing plants in a greenhouse is much like growing them outdoors, except you are responsible for more than just adequate water, proper pruning, and protection from frost and pests. In a greenhouse, controlling the temperature, humidity and airflow will be part of your daily gardening routine. The first step to choosing the right setup is determining how much space you have to work with.
Consider Your Space
Gardeners have two basic options for greenhouses: freestanding or attached. Freestanding greenhouses are self-contained and don't need a wall to lean against, whereas attached greenhouses fit on the side of a house, garage or shed and use an existing wall for structural support.
The advantage of using an attached greenhouse is that one wall is already completed for you; plus, since that wall is part of a weight-bearing structure, the rest of the greenhouse can be lighter. Attached greenhouses are usually cheaper than freestanding and are perfect for growing herbs, seedlings and some vegetables, and they are a great option when space is an issue. However, one main issue with an attached greenhouse is that it only gets sun on three sides.
Freestanding greenhouses are not limited by space and will receive sun from all sides. That means freestanding greenhouses need only a level surface in a spot that gets plenty of sunlight. Freestanding greenhouses are typically more expensive in the beginning, but they make up for the cost by the increased number of plants you can grow in them. Plus, due to the additional light and heat they offer, freestanding greenhouses also let you start plants as early as January or February; then, when frost is predicted, you can bring plants back inside to extend the growing season into November.
Plan Your Plants
Choosing the right greenhouse also means knowing what plants you want to grow and how much heat and sunlight they require. No matter the season, greenhouses get warm, and plants can suffer if temperatures get too high. For example, green leafy plants like temperatures no lower than 45 degrees at night and no higher than 65 to 70 degrees during the day, while tomatoes and squash like nighttime temperatures no lower than 55 degrees and daytime temperatures no higher than 80 degrees. Cool-weather vegetables like broccoli and lettuce prefer 50 degree nights and 65 degree days.
Whatever greenhouse you choose must have a way to move hot air out and cool air in. Both passive and thermostat-controlled vents can help keep the temperatures balanced for every plant in your greenhouse. Greenhouses with automatic vents are more expensive, but they take the guess work out of manually-controlled vents that must be checked and opened or closed as needed twice each day.
Gardening Basics
Remember, the basics of gardening are still the same regardless of your greenhouse selection. Plants require adequate water, sunlight, fertilization, proper pruning and staking to remain healthy and productive. Just like their outside counterparts, plants grown in greenhouses are susceptible to pests and disease. Checking plants regularly for problems and taking the appropriate measures before things get out of hand will protect your entire greenhouse garden.
Tractor Supply Co. has a complete line of freestanding and attached greenhouses, as well as cold frames and patio-sized greenhouse boxes to meet your year-round planting needs. Complete your greenhouse with accessories like work benches, shade clothes and watering systems, all available on our website.