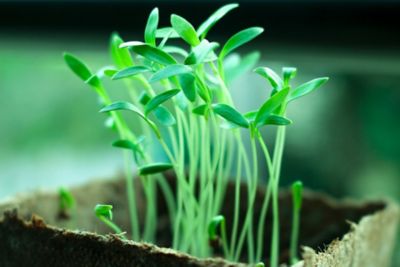 Seed Starting Tips
Benjamin Kilbride, Editorial Assistant at The Old Farmer's Almanac
Start seeds for the growing season with confidence—keep a record, use grow lights, and proper watering practices to get the best results.
Why Start Seeds Inside?
Starting seeds inside can give you a jump start on the growing season. While you wait for conditions outside to warm up, your garden will already be growing!
When Is the Best Time to Start Seeds?
Start seeds 4 to 6 weeks before the last frost of the season to give your seeds time to get strong enough to be transplanted.
Tips for Growing Seeds
Keep records
It's easy to forget what you planted, so to keep track of what's planted where and the date it was planted, label each pot using a permanent marker and a piece of tape. Alternatively, use a notebook to sketch a diagram of your pots and label them right on the page.
Grow lights
Providing extra light is the best way to help your plants to grow. If your seedlings are not receiving enough light, they will become long and thin as they try to reach for the sun. Place grow lights that use either LED or incandescent bulbs 4 to 6 inches over the plants—raise the lights as the plants grow.
Heat
During the germination process when seeds begin to sprout, provide mild extra warmth—75° to 80°F should do it. After they've sprouted, place the seedlings under grow lights in a slightly cooler area, around 60° to 70°F.
Water
The soil for seedlings needs to stay consistently moist—anytime you see that the top of the soil is drying out, water the plants.
Acclimate seedlings
When it is time to transplant the seedlings, begin taking the plants outside and leaving them there during the day, returning them inside at night. After three days, they will be hardened off and are ready to be transplanted into the ground.