Rosemary Remedy
By T.L. Dew
Health experts have long touted the benefits of eating a diet consisting primarily of fruits, vegetables, fish, and herbs. And now, rosemary, an herb used in Mediterranean-style cooking has attracted additional interest.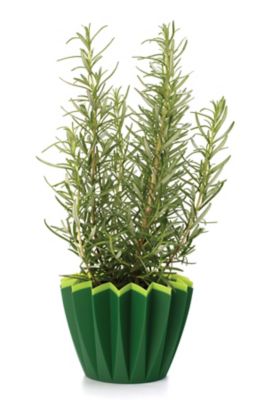 A few months ago, news outlets in the United States and Europe reported on the southern Italian village of Acciaroli where several residents live to be more than 100 years old.
To learn why, researchers are taking a closer look at the villagers' lifestyles, including what they eat. They noted that rosemary is used in nearly every meal.
Sallie Lee, who works for the Alabama Cooperative Extension System as an urban regional extension agent for Auburn and Alabama A&M Universities, would not be surprised if rosemary is contributing to the good health of those Italian villagers.
"It's an herb and most herbs have medicinal properties," Lee says. "It has antioxidant effects."
Rosemary, a member of the evergreen family with aromatic, needle-like leaves, is commonly used to flavor poultry, fish, soups, breads, and olive oil.
The herb is easy to grow, Lee says.
There are two forms: Upright and prostrate.
In warmer regions, upright rosemary bushes are often used as hedges, easily growing to 4 feet tall.
Prostrate rosemary grows closer to the ground and, in the proper conditions, can be used as ground cover.
Either can be used in cooking, but the upright rosemary is usually preferred, she says.
"In general, the shrubs that grow upright and have larger leaves are better for cooking because the leaves contain more of the oils," she notes.
Both forms are flowering herbs, attracting bees and butterflies, but the pungent oils in the plant deter rabbits and deer from snacking on the woody stems.
To grow your own, Lee recommends getting an established rosemary plant or propagating one rather than starting with seeds.
Rosemary seeds are tiny, Lee says, and it's difficult to plant them at the correct depth, with the right soil and proper amount of water.
"It's just a stubborn plant to grow from seed," she says.
Rosemary can be planted in the ground or in a pot. In either scenario, the soil must drain well.
If you decide to use pots, choose terra cotta because it wicks moisture from the soil, drying it out faster.
Rosemary, a drought-tolerant plant, does not need a lot of water.
"Let the soil dry out completely between waterings. If the top of the soil is damp, leave it alone," Lee advises. "Root rot is one of the easiest ways to lose rosemary."
To ensure a large, lush hedge, Lee prefers planting directly into the ground.
Whichever method you choose, find a sunny spot.
"Some people are going to try to grow it in partial shade and it may live, but it probably will not thrive," Lee says. "If you grow it and you want it to bloom, you really need the sun."
Don't bother fertilizing the herb, because it doesn't need it.
"It may take 3-4 years before it reaches mature height," Lee says. "It's one of the slower-growing herbs."
After planting, Lee recommends waiting at least one year before harvesting, to give the plant time to develop a strong root system.
"Since it is evergreen, you can pick it year-round," she says.
In colder climates, experts will advise you to take the potted rosemary inside for the winter.
If cared for properly, a rosemary plant can live 10 years or more.